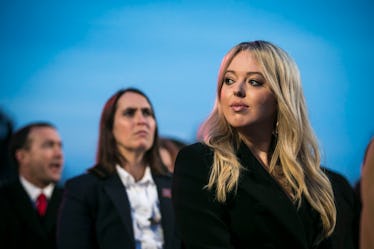 Tiffany Trump May Be Spending Christmas Far Away From Her Dad
Pool/Getty Images News/Getty Images
Tiffany Trump seems to be enjoying living near the rest of her family now that most of the Trump troop is gathered up in Washington D.C. But it seems that when it's time for holiday cheer, the second-youngest Trump is going back to her old stomping ground. Based on her recent social media postings, Tiffany Trump is spending Christmas back in New York City.
Washington D.C. saw a whole lot of Trump travel in 2017. First, of course, Donald moved into the White House, followed by Ivanka Trump and Jared Kushner's move to the city. Melania and Barron Trump joined them in the capital city in June, after young Barron's school year ended. Finally, in August, Tiffany Trump moved to D.C. for law school. She's currently halfway through her first year at Georgetown Law, which she started after graduating from the University of Pennsylvania in 2016.
Although Trump has gone to school in Philadelphia and Washington D.C., most recently, she's been a New Yorker. And like many other New York-based students, she went on back to the city for the holidays as school hit winter break. According to the Georgetown Law academic calendar, the last day of classes was Dec. 2 and exams were held up till Saturday, Dec. 16. The last day for papers due was Dec. 15.
Sure enough, by Tuesday, Dec. 19, Tiffany was decidedly back in New York City. She posted a video on Instagram of herself at the Volez, Voguez, Voyagez exhibit by Louis Vuitton, which is downtown in Manhattan.
Trump appears to be making a fashionable return to New York with this visit to the Louis Vuitton exhibit, which is fitting for the mark that she's made in the city. Tiffany is a regular New York Fashion Week attendee, and she and her friends have made a name for themselves as social media socialites.
Later on Tuesday, Trump posted a picture of what appears to be the Rockefeller Center Christmas Tree to her Instagram story. The picture was dated Dec. 17, 2017 (and included an adorable candy cane heart atop the tree). The tree, if you don't know, is in Midtown Manhattan.
Tiffany has lived in New York since 2012, when her mother, Marla Maples, moved them there, according to The New York Times. Maples and Donald Trump were only together for a short time in the 1990s. After their relationship ended, Maples took Tiffany — who was then 5 years old — to live in California in 1998. According to Maples, the move back to New York was partially so Tiffany and Donald could get closer. "She hasn't seen her father much throughout the years. But now, she wants to get to know him better," Maples told the Times.
However, with her dad in the White House, New York isn't the best place for them to connect anymore. And Washington D.C. wouldn't really help Tiffany be close to her father for Christmas, either — he's spending the holiday at his Mar-a-Lago estate in West Palm Beach, Florida, along with Melania and Barron.
Tiffany was able to at least partially celebrate Thanksgiving with her D.C.-based family. She joined her half-sister, Ivanka Trump, and other family members for the White House turkey pardon.
But while Donald and Melania went to Mar-a-Lago for the real Thanksgiving day, Tiffany joined her mother in Alabama (well, after taking some time for her studies).
According to her own social media postings, Maples is also now in New York City.
And she seems to be thinking a lot about holidays with her daughter — at least, based on her recent #TBTs.
So it seems like it'll be some nice mother-daughter time for Tiffany and Marla this Christmas. Here's hoping the law student gets to relax through her winter break!