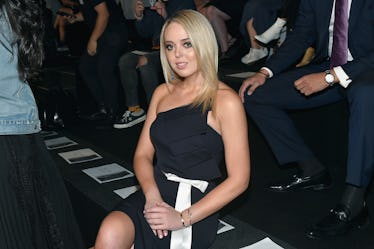 Tiffany Trump Met The Turkeys At The Pardoning Ceremony, & The Pics Are Pretty Cute
Mike Coppola/Getty Images Entertainment/Getty Images
Tiffany Trump is the least visible of President Donald Trump's adult children, and it seems like the Georgetown Law student likes it that way. But even the most subtle of us can't avoid our families for the holidays, and that includes some awkward family snapshots. Although, to be fully honest, these photos of Tiffany Trump at the White House turkey pardoning ceremony are actually more adorable than awkward.
Tiff showed up to join the family at the ceremony in the White House Rose Garden on Nov. 21, where she was spotted sitting in the audience alongside half-sister Ivanka Trump and Ivanka's young daughter, Arabella Kushner. Both sisters, as well as Arabella, were dressed in festive autumnal shades of red and burgundy, with Tiffany opting for bare legs on the relatively warm afternoon. Snapshots show the half-sisters embracing and playing with Arabella on the White House lawn, but the real charmer of the photos was the shots of Tiffany Trump meeting Drumstick, the turkey recently pardoned from his culinary fate. The second first daughter was caught on camera leaning in to pet the 40-pound White Holland turkey, which apparently stayed pleasantly docile for the meet and greet. I really can't blame her for taking the opportunity to touch a real, live turkey — the real bird is a far cry from the colored-in tracing of your hand everyone does in elementary school.
Unfortunately for Trump, the bird's quiet decorum while being poked and prodded didn't last long. Fortunately for us, the photo it resulted in is pretty hilariously charming.
That is the exact same face I would make, so no judgement, Tiff. While I'm sure Drumstick is relatively chill after being spared from the Thanksgiving table, turkeys are known to be able to ruin your day. Don't let the turkey intimidate you!
Six-year-old Arabella got in on the turkey action too, with a little help from mom, Ivanka. I really can't blame her for looking a little uncertain, either — meeting a IRL version of your Thanksgiving dinner is probably a little more intimidating when the bird is about half of your full size — and it's presumably even more intimidating after watching your aunt be freaked out by the same bird.
Of course, the charming photo ops were somewhat undermined by President Donald Trump's facepalm-worthy jokes at this year's turkey pardoning ceremony. President Trump used the opportunity to bash his predecessor, Barack Obama, and riff off the fact that he's basically been doing everything he can to overturn legislation passed under Obama's presidency with a reference to the turkeys pardoned last Thanksgiving, named Tater and Tot.
"As many of you know, I have been very active in overturning a number of executive actions by my predecessor," Donald Trump said at the ceremony. "However, I have been informed by the White House Council's office that Tater and Tot's pardons cannot under any circumstances be revoked. So we're not gonna revoke them. So Tater and Tot, you can rest easy." How gracious.
Of course, groan-worthy presidential humor is pretty much a standard for the turkey pardoning ceremony. In 2016, then-President Obama filled his speech with no less than ten Thanksgiving-related puns. The corny jokes might have something to do with why first daughters Malia and Sasha Obama were notably absent that year, after multiple years of humoring their dad's humor — for which he thanked them at the 2015 turkey pardoning.
Holidays come and holidays go, but rolling your eyes at your dad's lame jokes while he giggles over embarrassing you is forever.
So basically, Tiff, don't worry too much (or, like, at all) about being caught on camera freaking out at a bird. Being photographed or videotaped looking slightly ridiculous at a family gathering is as much a part of the holidays as the turkey. Whether it's cooked or pardoned.