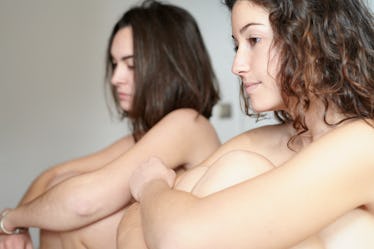 When Your Significant Other Is Falling Out Of Love With You, Here's How You'll Know
It seems like half of country music is made up of songs about your significant other falling out of love with you. Of course, the other half of country tunes are about drinking at the beach, which is probably not unrelated. Checking in with your partner about how you're both feeling isn't always easy, especially when you sense them pulling away. If you're starting to think your boo is falling out of love with you, it doesn't necessarily mean the end is near.
"First and foremost, it isn't always easy to know if your partner is falling out of love with you or if, as a couple, you are just going through a rough patch," Dr. Gary Brown, a prominent dating and relationship therapist in Los Angeles, tells Elite Daily.
If you've been fighting a lot lately or haven't had sex in like, a Sex And The City Movie, Miranda and Steve style,"There was snow on the ground!" while, it's natural to begin to question where you and your boo are standing in your relationship. (Of course, it's also natural to argue and to not have sex all the time, or at all, in any stage of a relationship.) The best thing to do with your boo when you're starting to sense your love drifting, is to talk about it.
Here are a few signs that your partner may be falling out of love, so you can keep a look out.