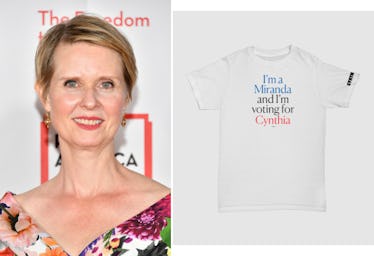 This New 'Sex & The City' Merch Is For The Politically-Minded Mirandas Out There
Dia Dipasupil/Staff/Getty/Cynthia For NY
Calling all Mirandas! And Carries, Charlottes, and Samanthas, too, actually. You may have heard that former actress Cynthia Nixon is running for governor of New York, and her latest campaign souvenirs prove that the former actress is embracing her thespian past. The Sex & The City merch from Cynthia Nixon's gubernatorial run is for all the politically-minded Miranda fans out there.
It's the 20-year anniversary of Sex & The City, a show that resonates with countless men and women to this day. For me, SATC was a preview of what my life would be once I moved to the city. Replace the characters' landlines with cell phones, add in a few dating apps, take out all the designer shoes (sad), and it wasn't all that different. The gals, like my friends and I, went on dates an eclectic slew of parters, chatted about said partners at boozy brunches, and made many fashion statements along the way. One of the oldest personality quizzes in the books is, "Which Sex & The City Character Are You?" Funnily enough, I typically get the result of being a Miranda, and today more than ever, I'm good with that.
Nixon portrayed Miranda, the embodiment of a type-A personality, on the HBO show, and she's following suit IRL with her run for New York governor. The former actor isn't erasing her roots, though, and her new Sex & The City merch is so on brand.
20th Anniversary White SATC Tee
"I'm a Miranda and I'm voting for Cynthia" is emblazoned on most of the goods. This white T-shirt is a classic campaign merch must-have, this time with a nostalgic spin.
Now that's just freaky. I couldn't help but wonder: Did she always know she would run for governor?
20th Anniversary Black SATC Tee
Whether you're usually a Carrie, Charlotte, Samantha, Stanford, Big, Steve, Harry, Smith, Aiden or any other Sex & The City character you can think of, anyone can be a Miranda for now.
Nixon's character always scoffed at societal gender norms. If there were ever a time for an excessive amount of Sex & The City gifs it's now, so buckle up.
20th Anniversary SATC Tote
I love a good tote bag so I'll probably be showing off my vote for Nixon (Cynthia Nixon, that is) with this carry-all. Totes are great for travel (they pack up small) for beach bags (you can throw them in the wash afterwards), they work as reusable grocery bags, and they're a fun way to express yourself.
Preach!
20th Anniversary SATC Hat
You may have noticed that the ladies on the show almost never (if ever) took the subway. That's because the New York City subway system leaves much to be desired but Nixon is promising to fix that. That alone will almost secure my devotion to identifying as a Miranda.
Girl power!
20th Anniversary SATC Tee — Toddler
Not that there's anything wrong with being a Miranda, but being a future governor who'll enact all kinds of positive change is even better.
Cheers to that.
All the Mirandas on Twitter rejoiced at this merch drop
"OMG you guys, I can't order this @cynthianixon merch fast enough. #ImAMiranda," tweeted one fan and I couldn't agree more.
Iconic AF.
Sex & The City will never not be relevant.
Not gonna lie, I do, too.
Mirandas FTW.
So proud.
Yes! Do it!
Yaaasss, he did it.
If you live in New York, do Miranda proud and vote in the Democratic primary on Sept. 13, 2018 as well as the New York gubernatorial election on Nov. 6, 2018. If Nixon wins, celebratory cosmos on me!