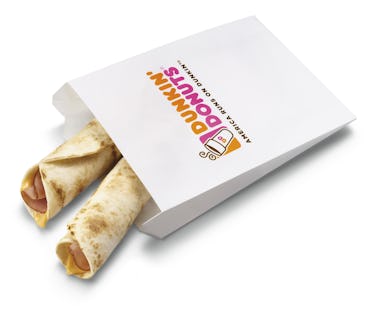 You Can Now Try Dunkin' Donuts' Newest Menu Items For An Affordable Snack Break
DUNKIN' DONUTS
It's getting even tastier for America to run on Dunkin', and I'm more than ready to dig into Dunkin' Donuts' highly-anticipated new lineup of savory breakfast goodies, sweet treats, and even the chain's very first gluten-free bakery offering. If you're like me, you're likely wondering when Dunkin' Donuts' new Dunkin' Run menu will be available. Well, I've got great news: You can dunk and run right now for less than the cost of your iced coffee, and you're definitely going to want to get in on all this deliciousness.
As of Aug. 1, a brand new snack menu is coming to your local DD, and everything on it is only $2, per a Dunkin' Donuts press release. The crave-worthy menu is available as of Monday, July 30, and it's totally possible that you'll be spending most of your day at a Dunkin' Donuts in the coming months. They have a handful of tasty bites for breakfast, lunch, dinner, and even dessert, so your entire day can practically run on Dunkin'. Here's a rundown of what you can score on the new menu, so you can be prepared when you take your next coffee (and snack!) break.
The first item that caught my eye are the brand new Waffle-Breaded Chicken Tenders, which honestly sounds like the most delicious way to satisfy those breakfast and lunch cravings in one go. If you're a breakfast-for-dinner person, then this is the snack for you. Plus, for just $2, you get two chicken tenders fried to a crisp in DD's sweet waffle batter. So much yum.
If you're still hungry, I'd keep going on the savory train with the Ham and Cheese Roll-ups. This snack is made with ham and plenty of melty cheese layered in a tortilla, and these roll-ups are going to make your mornings a whole lot better.
The rest of the offerings on the Dunkin' Run menu are bites that you're going to want to munch on at the office or bring home for your Netflix and chill evenings. Again, they're all just $2 each, so you might want to load up on a few different ones. If you're in the mood for something savory, I'd recommend the warm, doughy five-piece Pretzel Bites paired with a tangy mustard sauce. They'll pair great with iced DD Coolatta, too.
If you're working with a sweet tooth, I'd turn to the chain's Donut Fries, which they introduced earlier this summer as part of National Donut Day. If you haven't had them, I'd definitely recommend giving them a try. While they aren't exactly the fries you're used to getting (TBH, the fried buttery croissant treats — which are rolled in a cinnamon sugar mixture and served piping hot — totally remind me of churros), they are still totally delicious.
Speaking of sweet, Dunkin' Donuts is debuting its first gluten-free bakery treat: an indulgent fudge brownie that comes in an individually wrapped package. Plus the chain's beloved S'mores Donut is back on the menu to give you plenty of summer feels. Unfortunately, the gooey marshmallow and Hershey's Chocolate-filled treat is only available for a limited time, so I'd make a point of grabbing one soon.
Honestly, where have all of these amazingly priced goodies been all my life? You're going to want to run — not walk — to your nearest DD to score these $2 treats that'll satisfy all your cravings without putting a dent in your wallet. Another bonus? They'll pair perfectly with your mid-afternoon iced coffee fix.