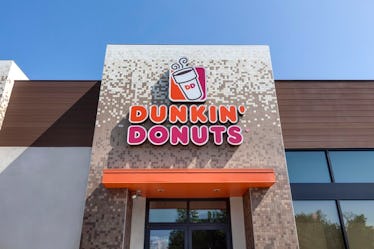 5 Pink Dunkin' Donuts Drinks That Were Made To Brighten Up Your Instagram Feed
Dunkin' Donuts is a go-to restaurant for your morning pick-me-up and a sweet bite to start your day, but there are so many Dunkin' drinks to discover. More specifically, there are plenty of brightly-colored drinks you should try. Nothing's better than a refreshing sip and a colorful addition to your Instagram Story, right? To help you out with that, here are five pink Dunkin' Donuts drinks.
Of course, a drink doesn't have to be pink to make it picture perfect, but it certainly doesn't hurt. A pink-hued drink also tends to have a delicious fruity flavor, so you're not sacrificing the taste of your sip for a pretty picture. Sometimes the hunt for a perfectly pink drink doesn't always work out, but there is always a worthy substitute to make it work. I can almost guarantee that you'll still rake in the likes if you post a picture of a gorgeous red-colored sip, too.
If you're set on making that drink pink, then I'm sure you can find the perfect filter to give you exactly the hue that you're looking for. Honestly, it doesn't matter if your drink is pink, red, or purple, because any colorful sip is always a welcome addition to the 'Gram.