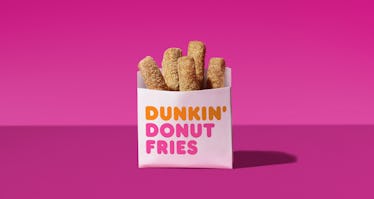 Donut Fries Are Officially Coming To Dunkin' & They'll Be Here Very Soon
Dunkin' Donuts
Forget the eggs and bacon for breakfast, because Dunkin' Donuts is rewriting your morning menu with the launch of Donut Fries. The innovative deliciousness brings together the best of the breakfast and lunch for you to snack on this summer. Don't rush off to the doughnut chain just yet, because the sweet treats haven't hit menus just yet. So, when are Donut Fries available at Dunkin' Donuts? Get your tastebuds ready for a different sort of morning treat, because Donut Fries won't be around for long.
Dunkin' Donuts will begin serving up Donut Fries to hungry patrons at participating stores across the nation very soon. The newest menu item was announced on Wednesday, June 27, but you will have to wait just a little while longer before you can bite into Dunkin's latest creation. Starting on Monday, July 2, you will be able to order up a batch of Donut Fries, so just be patient for a few more days. I know, it's hard, isn't it? Once they are released, you will only have a small window to enjoy them. Donut Fries are available for a limited time this summer, so be sure to order up while you still can.
Donut Fries were tested in stores in the Boston, Massachusetts and Providence, Rhode Island markets earlier this year, according to a press release. Of course, they were a huge hit. That's why the fast food chain decided to bring Donut Fries to participating locations nationwide.
"As America's donut leader, we put our passion and creativity towards finding fun and unexpected ways to please and surprise donut fans. There was a strong consumer response towards bringing Donut Fries to all Americans during the initial test, and we are excited to make this unique donut treat available nationwide this summer," Tony Weisman, Chief Marketing Officer, Dunkin' Donuts U.S., said in a press release.
Donut Fries are shaping up to be the must-have snack this summer, and they aren't even out yet. So, what exactly are Donut Fries? Here's what to know before you order. Donut Fries are basically like a croissant covered in sugar, and shaped like a french fry. Talk about the ultimate food mashup. According to Dunkin' Donuts, Donut Fries combine the buttery taste and flaky texture of a croissant-style doughnut. Yes, please. To bring it all together, Dunkin' coats the fries with a healthy dose of cinnamon sugar. This is starting to remind me of a churro, and I'm not mad about that. The sweet and sugary fries are then served up hot and fresh for you to enjoy all summer long.
With their July 2 debut just days away, Donut Fries will be here just in time for your Fourth of July travels. Dunkin' is keeping your summer budget in mind, too. According to Dunkin' Donuts, you'll be able to score a serving of five Donut Fries for just $2. That's less than the average cost for a gallon of gas in the United States right now, which is sitting pretty at $2.84 per gallon as of Wednesday, June 27.
Donut Fries aren't the only new menu item Dunkin' is rolling out this summer. On June 27, Dunkin' Donuts also announced a new drink called the Brown Sugar Cold Brew, as well as the Chocolate Coconutty Donut and the Shark Bite Donut. All three menu items will be released on Monday, July 2, along with Donut Fries. I don't know about you, but the Brown Sugar Cold Brew sounds like the perfect drink to go with an order of Donut Fries.
This is your friendly (and final) reminder that Donut Fries will only be available at Dunkin' Donuts stores for a limited time, so enjoy them while you can.