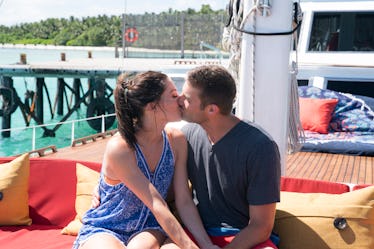 Here Are All The Details Bachelor Nation Has About Becca's Upcoming Nuptials
ABC/PAUL HEBERT
Another season down, another Bachelor-verse wedding to look forward to. After a rocky romantic year that involved being dumped by her fiancé on national TV, Becca found the man she was looking for and his name isn't Arie. Virginia may be for lovers but the Maldives is apparently for proposals, because Garrett got down on one knee and proclaimed his love for Becca and now they're set to walk down the aisle. So, when will Becca and Garrett get married? The lovebirds didn't divulge much on After the Final Rose, but they are taking the next steps in their relationship.
"We don't have any wedding plans yet, we just wanna be able to be normal and in public," Becca told Chris Harrison.
Now, all Bachelor Nation is wondering (besides who's going to be the next Bachelor) is if they've set a date.
"In terms of wedding plans, we have nothing set yet," Becca additionally recently told InStyle. "We're still kind of soaking in this moment. We've been taking time for some privacy right now. And really, we're just appreciating being together."
Becca and Garrett may not have fully jumped in on the whole wedding planning thing yet, but they did reveal they're moving in together and figuring out where they want their homebase to be moving forward.
"We don't exactly know where yet. He's gonna spend some time in Minnesota. I'll go to Reno for a while. I think we'll come to California for a couple years," Becca explained.
Now that Season 14 is all said and done, Garrett and Becca can finally be out in the open together, walk down the street, not hide in remote locations, go to Costco, and tell the world just how happy they are.
Garrett nabbed the first impression rose on night one — a tell-tale sign that he had potential to get far in the season — but Becca's decision to pick him in the end didn't come without a gut-wrenching struggle.
"I feel like I could be happy with either guy but I don't know what's going to happen to give me any sort of insight," Becca lamented on the dramatic finale.
Even facing the contoversy surrounding Garrett, who made headlines for "liking" multiple offensive posts on Instagram, and a season chock-full of fighting among the men, Becca seems content and ready to take on the next chapter in her love life. She's already stated that the tough journey was "worth it," so Bachelor Nation can trust in her determination to make things work with Garrett.
Becca's got "no regrets," despite the hurdles and the agonizing breakups.
"I did everything how I wanted to do it, and I stand by everything I said and did. I was living in the moment. It was hard to hurt people and say goodbye to some genuine and amazing standup guys, but that is the nature of this," she explained to InStyle.
Becca and Garrett stopped by Jimmy Kimmel Live! on Monday, Aug. 6 to play a little Newlywed Game and they actually performed pretty well for two people who got engaged during a reality show after only a few months.
If Bachelor Nation is lucky, maybe Becca and Garrett will have a televised wedding when they're ready. For now, it seems they're just enjoying each other's company to the fullest. Let's do the van thing!