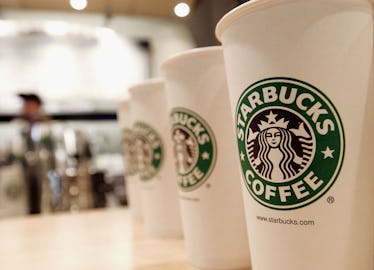 Starbucks' Weekly Happy Hours Will Last Longer Than You Think
Stephen Chernin/Getty Images News/Getty Images
If you're someone who takes their Starbucks outings seriously, then you probably know about the company's weekly Happy Hours. If you don't, then I'll give you the DL. Starbucks announced the comeback of their Happy Hours on March 27, and the first one took place on Thursday, March 29. Since then, each weekly special has offered discounted drinks to customers between a certain time frame, and only those who got invitations could take advantage of the discounts. They sound pretty great, right? Luckily, Starbucks' Happy Hours didn't end yet, and you can totally take advantage of the upcoming specials.
It's true: Starbucks' Happy Hour deals aren't going anywhere anytime soon. In fact, they will last the entire year, according to Starbucks' Happy Hour announcement. That means you have ample time to plan your Happy Hour outings and decide which Starbucks drink specials you're going to keep an eye out for. If you're a frappuccino fan, you might find it necessary to leave work early on a Thursday afternoon for a discounted Mocha Frappuccino. If you're more of an espresso person, you might keep your eyes open for a deal more specific to your caffeination needs. (In my opinion, all Starbucks Happy Hour specials are worth a post-work pick-me-up.)
As you may have already guessed, each Happy Hour offers a different discounted beverage. For example, Starbucks' Happy Hour on Thursday, May 17 offered $3 grande frappuccinos, but the Happy Hour on Thursday, May 10 offered half-off espresso drinks. The main catch is that nobody knows which drinks will be on sale until the Happy Hour invitations are sent.
So, what's a Happy Hour invitation, and how the heck do you get one? There are actually a few ways to get involved. The first way is to sign up to be a Starbucks Rewards member. This is the perfect option for anyone who visits Starbucks on a daily basis, because it offers way more than just Happy Hour discounts. In fact, being a Starbucks Rewards member will get you perks on your birthday, pay-by-phone capabilities, free in-store refills, and more (but I digress). When you're a Starbucks Rewards member, you'll also get notifications through your Starbucks app about when the next Happy Hour will be, and what drink will be discounted. To sign up, you can head to Starbucks' Rewards page, and hit "Join Now." After you hit "Join Now," you'll be taken to page where you will have to provide basic information, including your name, zip code, email address, and password. It's that simple.
If you're not into commitment, you can always find out about Starbucks' Happy Hours by signing up online. When you sign up online, you'll just be asked for your name and email address. Then, you'll automatically get weekly emails that remind you about Starbucks' Happy Hours that are scheduled. (I'd tell you which Starbucks Happy Hour is coming up next, but that would totally ruin the surprise.)
Whether you're using Starbucks' Rewards program to score Happy Hour deals, or if you're depending on emails to remind you, there's one thing you should keep in mind. While you're waiting in line at Starbucks, make sure you have your Happy Hour code out and ready. The code will either appear on your Starbucks app (if you're a Rewards member), or it'll appear on this webpage after you sign up online. You'll have to show your barista the code in order to actually use the Happy Hour special. If you don't, you might be stuck paying the your Happy Hour drink at a normal price.
With that being said, you have the rest of the year to follow these steps and make sure you're signed up for Starbucks' Happy Hours. Time flies when you're having fun (and drinking good coffee), so get involved ASAP.