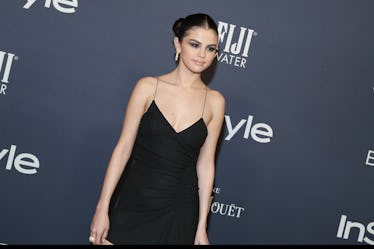 Selena Gomez Is Dropping Her "Wolves" Music Video At The AMAs, So Get Excited
Jonathan Leibson/Getty Images Entertainment/Getty Images
Hold onto your butts, Selena-heads. This girl can't stop bombarding us with news, gossip, and stupid-catchy songs. On Nov. 6, the "Bad Liar" singer announced on Twitter she will be performing her new song "Wolves" at the American Music Awards (AMAs). While we're stoked to see her perform it, fans are really wondering when does Selena Gomez' "Wolves" music video come out?! Unfortunately, she's hasn't called to give me the official update, but that's why internet stalking exists, and here's what the internet has told me.
On Oct. 25, Selena dropped "Wolves" in collaboration with DJ Marshmello and, like most of her work, it's an emotional journey. While her Instagram pictures promoting the hit show her goofing off with Marshmello, the lyrics are much more intense. She has yet to comment on what the song is directly about, but fans are deducing a lot on their own.
Here are the chorus lyrics to give you a quick little taste:
I've been running through the jungle
I've been running with the wolves
to get to you, to get to you
I've been down the darkest alleys
Saw the dark side of the moon
to get to you, to get to you
I've looked for love in every stranger
Took too much to ease the anger
all for you, yea all for you
I've been running through the jungle
I've been crying with the wolves
to get to you, oh to get to you
I know. Many think pieces can be written about this stuff...
Today, Gomez announced the good AMAs news and teased the video to come on Twitter, and it looks freaking awesome.
As per usual, Gomez is all kinds of mysterious and the teaser is complete with a pool scene and sequin outfit.
Gomez said she first heard a rough cut of the song when one of her writers brought it to her in Japan. She told Beats 1 radio host Zane Lowe,
This was a song that I heard in Japan for the first time and I was talking to Andrew Watt who is one of the writers [who I] worked with for years and he actually just played a rough version and I thought it was really beautiful and he sent it to Marshmello and we ended up talking... we created a really cool tone and a story with it, and the song is very beautiful and personal and the lyrics just have, you know, a whole story of its own... weirdly at the same time I was working on it in Japan and going through stuff too, so it's mirrored everything.
Sure, "it's mirrored everything" is the most vague statement a human can make when talking about the "personal" lyrics to their song and simultaneously divulging literally no specifics, but sure, it' clearly meaningful and relevant to Gomez' life anyway.
It's been a wild ride keeping up with Selena's music this summer as fans linked "Bad Liar" and "Fetish" to her relationship with The Weeknd, which surprisingly just came to an end in October. It would be sort of uncomfortable timing if "Wolves" was about him too, especially because she posted a video of herself singing the song while riding her bike just days after the split went public.
I guess it's not like she could have known her relationship was going to end when she was writing "Wolves," but don't celebrities have, like, wizards they hire to predict these things so their personal lives line up perfectly with PR for their projects?
If not, can I... like... do that?
Check out the entire Gen Why series and other videos on Facebook and the Bustle app across Apple TV, Roku, and Amazon Fire TV.
More to come...