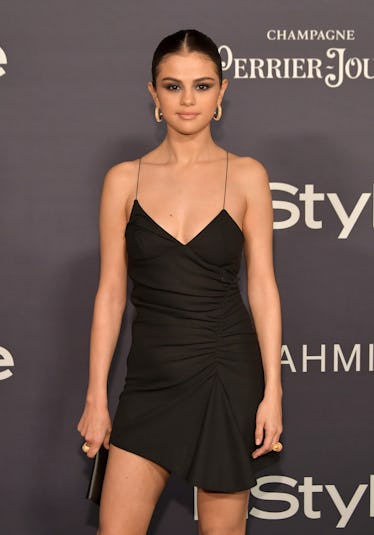 Selena Gomez Teased Her "Wolves" Music Video & It Looks So, So Dramatic
Neilson Barnard/Getty Images Entertainment/Getty Images
On Oct. 25, Selena Gomez dropped her new song "Wolves," a collaboration with DJ Marshmello. Now, fans are freaking out again because Selena Gomez's "Wolves" music video is coming and it looks so freaking dramatic.
On Nov. 6, Gomez shared the first official preview for the AMAs which included a snippet of her new music video. Before you check it out, please read over the ~emotional lyrics~ so you can prepare yourself for what you're about to see.
Check out the chorus below:
I've been running through the jungle
I've been crying with the wolves
to get to you, to get to you
I've been down the darkest alleys
Saw the dark side of the moon
to get to you, to get to you
I've looked for love in every stranger
Took too much to ease the anger
all for you, yea all for you
I've been running through the jungle
I've been crying with the wolves
to get to you, oh to get to you
OK, ARE YOU CRYING YET? The official teaser for the music video is below:
Looks deep, right? In an interview with Beats 1 posted to Twitter, the singer opened up about her new song. She told Zane Lowe,
This was a song that I heard in Japan for the first time and I was talking to Andrew Watt who is one of the writers [who I] worked with for years and he actually just played a rough version and I thought it was really beautiful and he sent it to Marshmello and we ended up talking... we created a really cool tone and a story with it, and the song is very beautiful and personal and the lyrics just have, you know, a whole story of its own... weirdly at the same time I was working on it in Japan and going through stuff too, so it's mirrored everything.
Clearly, Selena Gomez has changed up her style and is making music that's extremely meaningful to her now *cough "Bad Liar" and "Fetish" cough*.
Fans actually began to formulate theories on Twitter after Selena Gomez shared the name of her new song. One fan noticed that in a scene from her "Bad Liar" music video, Gomez was actually wearing a shirt that said "Wolves." Therefore, many people believe her music videos are all connected and have hints about her upcoming music in them.
As a reminder, you can check out her "Bad Liar" music video below:
Pretty sneaky, right? But there's more. On Oct. 19, behind-the-scenes photos of Selena Gomez's "Wolves" music video leaked so fans got an inside look at what she had up her sleeve. After pictures of Gomez shooting at a pool surfaced, fans started to think "Wolves" would be a continuation of "Bad Liar," since it very much could be a pool that students use in the school.
It's not that much of a stretch, right? It could very well be possible.
Other people went to Twitter to share that they think "Wolves" could be about Selena Gomez's relationship with The Weeknd. With lyrics like, "I wanna feel the way that we did that summer night," and "Your fingertips trace my skin to places I have never been," it definitely could be an option. Gomez can't release a song with romantic lyrics and expect her fans to not assume it's about her current relationship.
Gomez has not yet commented on the real meaning of "Wolves," but hopefully she opens up about it soon. Be sure to check out the AMAs on Nov. 19 to watch Selena Gomez's full music video. Thanks for another great hit, Selena!