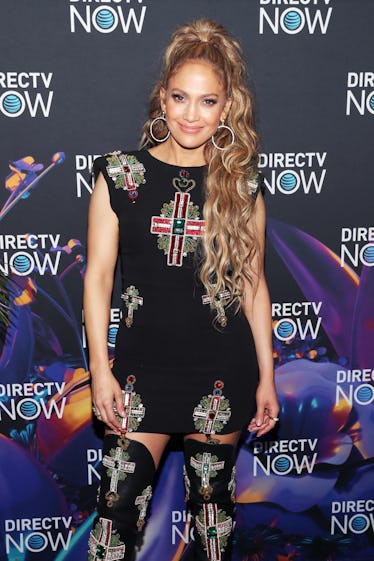 An Entire Jennifer Lopez Makeup Collection Is Dropping Super Soon, So Let's Get Loud
Christopher Polk/Getty Images Entertainment/Getty Images
At this point, I seriously cannot keep track of all of the upcoming celebrity beauty line launches. There are so many that to tally them all up would be a doozy. JLo has just announced that she'll be newest A-lister to try her hand in the industry, and if you're asking, "when does Jennifer Lopez's makeup collection drop?" I've got an answer for you.
The details of the collection in full were announced today via a flurry of Instagram posts, although makeup artist Scott Barnes announced one of its bronzers, specifically, in a post back in March. When a fan asked about one of Lopez's beauty looks, Barnes responded, "I'm using a bronzer that @Jlo is making its pretty amazing!! Shhh," naturally sending fans into a frenzy of hysterics. At the time, they didn't know an entire line was on the way, so when that news dropped today, people once again freaked, myself included.
Lopez always looks like five million bucks whenever she steps out the door. From her hair to her clothing and yes, to her makeup, she is the embodiment of #goals. So whatever she's having, or in this case, selling, I'll have. Which, in this case, is a range of 70 (!!!) different products. As reported by Allure, Lopez has teamed up with Inglot on a full line of products that will include eyeshadow, nail polish, lipstick, powder, highlighter, blush, bronzer, and the like. In other words, it'll allow you to copy the singer's entire beauty look, so start filling up your piggy bank now.
A few product names and details have already been revealed in advance of the collection's drop, which is right around the corner. It'll be available to shop during a pre-sale on April 17, and will drop online and in-stores on April 25. First up is 'Boogie Down Bronze," which, as you might have guessed, is the bronzer that Barnes was referring to in his March Instagram exchange.
As described by Allure, "It combines a balanced blend of cool and warm tones to make it flattering on a wide variety of skin tones." There's also 'Livin' The Highlight,' a champagne-colored loose powder highlight that's accompanied by a fuzzy puff applicator; and 'LipGlossy,' which will give you '00s-era high-shine lips. Seeing as Lopez released some of her best albums, at least in my opinion, during those years, it makes sense she'd want to pay homage to them via a product.
Perhaps the most exciting product within the collection is a customizable palette. Inglot has an existing Freedom System that allows customers to select exactly which shades and products they want within their palettes, and Lopez has designed her own refillable palette for her fans to fill as they'd like. You can choose from five bespoke blushes, two highlighter trios, and 20 eyeshadow shades to create the color combination of your dreams. In a statement, Lopez said, "Now you no longer have to buy that 5-piece eyeshadow kit to get the one color you really want." Thanks for looking out!
As I mentioned above, it seems like every celebrity and their mother wants to take a stab at the beauty biz, from Gwen Stefani and Serena Williams to Bella Thorne and beyond. But seeing as Lopez has already proven she's nailed the bronzer game by wearing it out in public herself, hers seems the most promising at the moment. She's also spent the past 25-plus years in and out of makeup chairs for acting and singing jobs, alike, so chances are she knows what works, what she likes, and what her favorite products are.