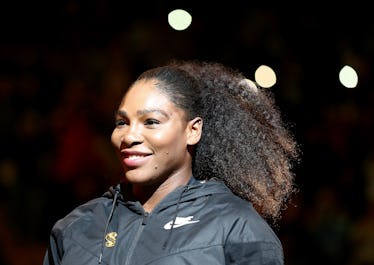 Serena Williams' Beauty Line Is In The Works & It's Going To Be So Ace
Elsa/Getty Images Sport/Getty Images
It seems like a new celebrity line of some sort is announced every single week. And while many of them end up being sub-par, some, at least as of late, end up churning out quality products that rival those of their top competitors. I think Serena Williams' beauty line — yes, you read that right — will be one of the latter. The woman nails everything she does, so this endeavor should be no different.
Everyone knows Williams as the monster of a tennis champion who has been ranked world No. 1 in singles by the Women's Tennis Association, who has won four gold Olympic medals, who holds the most Grand Slam titles in singles, doubles, and mixed doubles combined amongst active players...the list goes on. Her name has almost become synonymous with the sport, yet she's somehow still managed to align herself with a number of brands, causes, television shows, etc. over the years. Now, it seems, she wants to be the one creating the brand.
To backtrack a bit, Williams first showed interest within the beauty sphere back in 2010, when she became a certified nail technician to prepare for her then-upcoming nail collection with a brand called HairTech. According to Essence, she put in 240 hours of training to get certified, proving she took the collaboration seriously. "No one likes getting their nails done more than I do," she wrote in a post for GlobalGrind. "As a matter of fact I go every four days to get a manicure and every seven days for a pedicure. So, I had a brilliant idea to get certified to be a nail tech."
From there, she went on to collaborate on custom nail polish shades with O.P.I. in 2011, which included two metallic shades and two shatter-effect shades. "Whether I'm on or off the court, style is important," the tennis maven said in a statement, according to InStyle. "The White Shatter and Red Shatter lacquers allow me to add a high-fashion take to the elegant silver and sunset-colored polishes."
Williams also collaborated with fashion brands including Puma and Nike, and in 2015 she presented her HSN Signature Statement collection of clothing at New York Fashion Week. That same year, she became the first black female athlete to cover Vogue solo. (She recently covered the glossy again for their February 2018 issue, this time with her precious daughter, Alexis Olympia Ohanian, Jr., in her arms.)
Clearly, the woman knows a thing or two about the fashion and beauty spheres and is very into nails. But what about other makeup and skincare products? Well, it appears she's interested in those, too. As first reported by TMZ, Williams has filed legal documents to trademark "Aneres," which is "Serena" spelled backwards. Williams had actually already snagged the name some time ago, but only as it related to a clothing line. This time, it will cover a beauty line.
According to the United States Patent and Trademark Office, potential products could include: "Cosmetic preparations for skin care; cosmetics and make-up; make-up removing preparations; colognes and perfumes; body lotion; skin lotions; bath soaps and body wash; make-up kits comprised of lipstick, lip gloss, eye shadow, powder, foundation, remover, eyeliner, and mascara; hair shampoo; dry shampoos; hair rinses; hair sprays and hair gels." In other words, Williams has the potential to create a behemoth of a beauty line.
While we will have to wait for confirmation on the line from Williams herself, I really hope it's not only in the works, but is coming out soon. If it's anything like the lines by Kim Kardashian West and Rihanna — two equally strong, empowered, intelligent, and influential women — it's bound to be a game-changer in its own right.