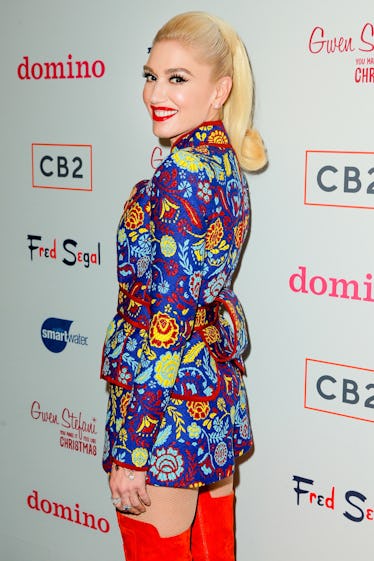 Gwen Stefani Is Dropping Her Own Beauty Line & There's No Doubt It'll Be Hella Good
Rich Fury/Getty Images Entertainment/Getty Images
2017 and 2018 are the years of celebrity makeup lines. From Kim Kardashian and Kylie Jenner to Rihanna and Serena Williams, it seems like a new fame-fueled collection is announced on the monthly. Hold onto your beauty blenders because a Gwen Stefani beauty line has just been announced, so if you've lusted over Gwen's blood red lipstick even half as much as I have, it's time to get really excited. Though few details are out there about what exactly the collection will entail, I am pretty certain her signature shade will be part of the offering — it has to be.
When I was a pre-teen, Non Doubt was everything. More specifically, Stefani was everything. Yes, I liked the band's music, but not as much as I liked their front woman's fearlessly out there style, personality, and makeup. As reported by InStyle, Stefani said in a 1996 interview, "I'm the girl who would wear baggy jeans but didn't forget to put on tons of makeup." I dreamed of one day having her bleach blonde hair, punky clothing, and '90s-perfect pencil thin brows when I grew up, and can remember analyzing her look over and over while watching music videos. She was absolutely one of my very first beauty icons, and still is one to this day.
When I was in high school, I saw Stefani in concert after she had broken off from No Doubt and become her own entity. She was radder than ever; Akon opened for her and I still remember thinking how badass it was that she was the headliner and he the sonic amuse bouche. Girl power, amirite? "This sh*t is bananas, B-A-N-A-N-A-S," I screamed at the top of my lungs alongside my best friends as Stefani danced and belted her way across the stage.
She was wearing the aforementioned red lipstick that's become her trademark while performing at that concert, along with a black cat eye and Marilyn Monroe-esque hair. Old Hollywood glam at its finest.
As a judge on The Voice, Stefani has continued to experiment with her look, trying out top knots, bangs, and metallic lipsticks that I could only dream of pulling off. Though she's seemingly permanently put the blue hair and face jewels to rest, she undoubtedly remains one of makeup's biggest trailblazers.
It's her elevated anything-goes approach to beauty that makes me confident Stefani's beauty line will be cooler than "Cool," one of my all-time favorite songs of hers. (Also, shoutout to OutKast!) As originally reported by TMZ, Stefani applied to trademark P8NT—pronounced "paint"—recently, which is fitting seeing as her makeup looks are always total masterpieces in their own right. The line will include powders, eyeliners, nail polishes, hair dye, perfume, and yes, lipstick, so any hope of me ever being a rich girl is about to go straight out of the window. It will also reportedly include sunscreen and moisturizers, which has me wondering if a comprehensive skincare line might be a long term goal for the brand. No other details like release date or product specifics have been released yet, but we are keeping our eyes and ears peeled.
While this is certainly Stefani's most exciting foray into the beauty industry, it's certainly not her first. In 2014, she collaborated with OPI on a collection of nail polishes and in 2014 she released an eyeshadow palette with Urban Decay. If her upcoming collection has a similar color palette to her prior product ventures, we can expect a lot of gorgeous neutrals, contrasted with bright blues, pinks, and reds.
I have just one question for Stefani: What you waiting for, Gwen? More details ASAP, please!