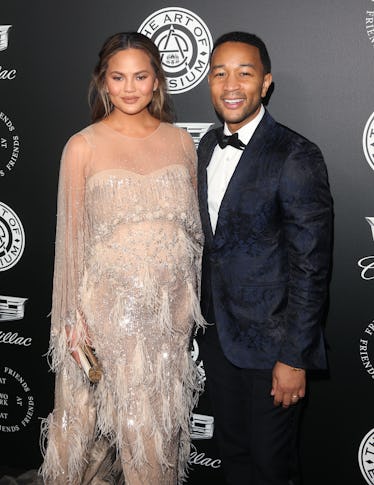 John Legend Revealed When He Knew He'd Marry Chrissy Teigen & My Heart Is Exploding
Jesse Grant/Getty Images Entertainment/Getty Images
Chrissy Teigen and John Legend are undoubtedly my favorite Hollywood couple. Maybe it's because they are so down to earth, or maybe it's because they're both ridiculously good-looking, or perhaps it's a hearty mixture of both. But whatever the reason, I get so excited when I hear either of the two talk about their relationship, because honestly, it's #goals. And, as in love as they are right now, I had no idea about the very beginning of their relationship. When did Chrissy Teigen realize she loved John Legend? When did John Legend know Chrissy Teigen was "The One"? Well folks, in an interview with Refinery29, Legend reveals that he can't actually pinpoint the moment he realized he wanted to marry Teigen.
In the interview, his new single, "A Good Night" is brought up — specifically one lyric: "Everything's gonna be alright, I think I just met my wife." But Legend says that he didn't have that moment of realization with Teigen. He said,
I don't know the exact moment, actually. I've had friends that said the day they met their wife, they knew she was gonna be their wife. And I have other friends who kinda grew into it.
He continued, saying,
Chrissy and I definitely grew into it — we started to learn each other, and then I knew that I wanted to spend the rest of my life with her. I think everybody comes to it differently, but at some point in Chrissy and I's relationship, I just knew that I wanted to build a life with her and be with her forever. You know, have babies and all that!
Sorry guys, I just need a quick minute to go weep tears of happiness in a corner.
Their love is just too pure, y'all.
And speaking of babies, now that we know Chrissy Teigen and John Legend are expecting their second child, a son, Legend talked about balancing his life to ensure his marriage stays healthy and happy. He said,
I think we've learned pretty well how to balance being parents and also focus on ourselves as a couple ... You have to make time, so we make time to go out on dates and vacations and spend time with just each other. But I hear having a second baby makes things a little harder.
Having two kids is probably much more difficult than just one, but if that baby looks anything like little Luna, I can't see why anyone would even care. I mean, did you see how Teigen announced her second pregnancy?
On Nov. 21, 2017, Teigen posted a video to Instagram that showed Luna just chilling next to her belly. Teigen pointed the camera to her stomach, and said, "Luna, what's in here?" Luna responded, "Baby," and my heart actually grew double its size:
In true Chrissy Teigen form, she captioned the video "It's John's!" because she wants the world to know that just because she's pregnant doesn't mean she's lost her humor. God bless.
But, much like many love stories, theirs came with a small bump in the road, when John Legend tried to dump Chrissy Teigen when he was on tour years ago.
Record scratch!
I'm sorry, but what? Why? LOOK AT THIS QUEEN:
Galavanting in a way that only Chrissy Teigen can.
But yep, in an interview with Cosmopolitan back in November of 2016, Teigen revealed that there was a moment where the couple didn't know if they were going to make it. She said,
I was on tour with him and he'd gotten sick. He was feeling really bummed and stressed out. He was like, 'I can't be in a relationship right now.' That lasted for one day. I knew it came from a place other than us not working. I always joke, 'Remember when you tried to break up with me?' He's like, 'Yes, sorry. Big mistake.'
Phew! Crisis averted, everyone.
So, now we can go back to loving the sh*t out of these two, because without them, our world would be so, so lost.
Chrissy + John 4 EVA.