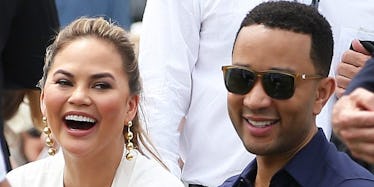 John Legend Tried To Dump Chrissy Teigen Once And She Straight-Up Said "No"
Adam Glanzman/Getty Images
Can you imagine a world where Chrissy Teigen and John Legend aren't together? Well, once upon a time, John Legend tried to break up with Chrissy Teigen. And once upon a time, Chrissy Teigen just said "no" to that attempt. And honestly, thank god for that, because trying to imagine a world without Teigen and Legend's marriage (and LUNA) was too painful. Legend's attempted breakup was long before they ever got married and long before little Luna ever came along, so how long have Chrissy and John been together? They first got together in 2006, and despite this almost-breakup that went down a few years later, they've been together ever since.
That almost-breakup happened when Legend was on tour, was feeling really sick and exhausted, and apparently couldn't handle the stress of a relationship during tour life. Teigen actually revealed the almost-breakup in a 2016 interview when she said,
I was on tour with him and he'd gotten sick. He was feeling really bummed and stressed out. He was like, 'I can't be in a relationship right now.' That lasted for one day. I knew it came from a place other than us not working. I always joke, 'Remember when you tried to break up with me?' He's like, 'Yes, sorry. Big mistake.'
Now, we finally have Legend's side of the story. In a recent interview with The Guardian, Legend revealed why he almost broke up with Teigen. He said,
I was really stressed and busy. I was just, like: 'I'd just be happier single right now.' And she was like, 'No.'
Classic Chrissy. And her rejection worked, as Legend said they were back together half an hour later and never broke up again. ("And they never will," she creepily whispers under her breath.) Seriously though, it's impossible to imagine a world that doesn't have such a great example of marriage goals. They support one another, they inspire one another, and after over 10 years of being together, they're still crazy about each other. GIVE ME THIS LIFE. AND ALSO PLEASE LET ME BABYSIT LUNA.
In a recent interview, Legend revealed how Teigen inspires him to be more open both in their relationship and on social media. He says it's simple to because she is so open about everything. He said,
There's no problem with openness in our relationship. You know Chrissy. She doesn't hold anything back! I'm quite reserved, but being with someone like her inspires me to be open about my emotions. She brings them out of me because she's so open about hers.
Chrissy Teigen and John Legend forever.