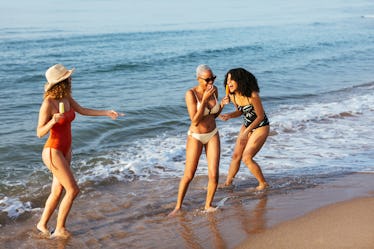 If You're Bringing Your S.O. On A Friend-Vacay For The First Time, Don't Trip — Remember These 7 Things
Whether you and your pals go on a trip every spring or you're planning an outing with a new circle — you may be feeling a little intimidated about bringing your partner on a group trip with friends. Maybe your boo has never made the guest list, or your trip has always been a "friends only" space — extending invites to S.O.s can be a big transition for an inaugural trip. Although you may wonder how all the pieces will fit together, rest assured that bringing your partner on a trip with your friends doesn't need to be stressful.
There are lots of little ways to help a group trip with the addition of your partner run as smoothly as possible. From checking in beforehand about who is coming, to setting specific boundaries for couple stuff and friend stuff: With a little open conversation, bringing you S.O. on a trip with your friends can be an amazing way to bond and relax in a new setting. Travel is an amazing way to learn about the world, and sharing it with loved ones can be extra special.
Here are seven things to remember if your are bringing your partner on a group trip for the first time.