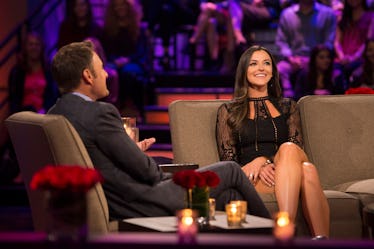 Here's Everything We Know About Tia's Life Since 'The Bachelor'
ABC/Paul Hebert
Tia Booth was a fan-favorite on Arie's season of The Bachelor, but despite giving a teary-eyed interview during the Women Tell All special, she wasn't able to take Becca's spot as Bachelorette. Tia may have stepped away from the cameras — for now — but that doesn't mean that her life is any less interesting post-Bachelor. What's Tia been doing since The Bachelor ended in March? The Arkansas native has seriously upped her Instagram game, and when she's not working as a physical therapist, she can be seen jet-setting all over the world.
While Tia was likely a little upset that her friend Becca was chosen to be the next Bachelorette (I mean, how could Becca not be chosen after that finale?), she seems to have recovered. In recent months, Tia has been traveling all over the country to attend weddings, concerts, and TV interviews. In April, the 26-year-old hit up Coachella, where she served up some serious ~festival lewks~ and met up with fellow Bachelor alum (and Arkansas resident) Raven Gates. Raven is now dating her Bachelor in Paradise co-star Adam Gottschalk, but I'm sure that didn't stop the two friends from having the best possible time at Coachella (aka Beychella).
Tia may not have won The Bachelor, but she's managed to leverage her fan-favorite status into a successful influencer career. Based on her Instagram, the Bachelor contestant is making money advertising for more than a few brands, including Velveeta (I can't blame her — its mac and cheese is unreal) and Sand & Sky, an Australian skin care company. It's unclear how much Tia is making off these sponsorships, but it seems like she's still working as a physical therapist, the job she originally had before she hit Bachelor fame. I'm sure that traveling and looking glamorous is a full-time job, but it may not pay all of Tia's bills.
There's no doubt that Tia's life has gotten just a little bit more exciting since she joined Arie's season of The Bachelor. But buckle up, girl, because things are about to get way better (probably). I'm just guessing here, but I'd say there's about a 93 percent chance that Tia makes an appearance on the next season of Bachelor in Paradise. The former Bachelor contestant has everything Bachelor in Paradise producers want: Tia is dramatic (remember when she called out 22-year-old Bekah on a group date for "not being ready" for marriage?), she's obviously gorgeous, and she's been clear that she's still "open to love."
After Tia so clearly made a case for herself to become the next Bachelorette during the Women Tell All special, Bachelor Nation took to Twitter to explain why Paradise might be a better fit.
More than a few fans on Twitter picked up on the Tia-Raven connection. Raven found love on Bachelor in Paradise, so it would make sense if Tia follows in her footsteps and heads to Mexico for Season 5. Plenty of guys from Becca's season of The Bachelorette will make an appearance, possibly including Grocery Store Joe, and I can think of at least a few who would be a perfect match for Tia's sassy personality. Plus, getting Bekah and Tia back together in Mexico — where there's even more alcohol and drama than in the Bachelor mansion — would be ah-mazing TV. How can Bachelor in Paradise producers pass up that opportunity?
In a recent interview with E! News, host Chris Harrison all but confirmed that Tia (and Bekah) would be joining the Paradise Season 5 cast:
It's a who's who ... of Bachelor favorites and a lot of obviously recent names that'll be coming from this season of The Bachelorette, people that you haven't even met yet. Obviously, last season with Arie, you have a lot of great Bachelorettes from that. And then, you know, we want to sprinkle in some big hitters from other seasons as well.
When I think of "great Bachelorettes" from Arie's season, it's impossible not to think of Tia. Her post-Bachelor life in Arkansas sounds great, but I bet that she'll gladly give up her jet-setting ways for a few weeks in Paradise. Wouldn't we all?