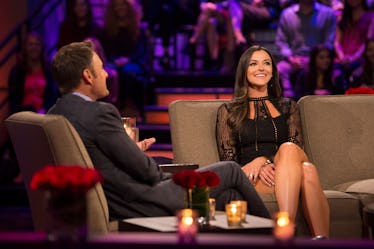 Twitter Is Begging To See Tia Head To 'Bachelor In Paradise' & We Get Why
Anyone who caught Bachelor Season 22 contestant Tia Booth's teary hot seat interview on "Women Tell All" definitely picked up on her shameless campaigning for the position of Bachelorette. Her eager moment in the spotlight, as well as her treatment of Bekah M. on the show, has rubbed some fans the wrong way, encouraging speculation that Tia may be passed over for The Bachelorette and join the cast of Bachelor in Paradise instead. That being said, will Tia be on Paradise? Twitter seems to think it may suit her better than the Bachelorette gig would.
Despite dropping major hints to Chris Harrison that she was still "open to love," Tia didn't exactly convince Bachelor Nation that she was the right fit for Bachelorette. The Arkansas native seemed to seal her franchise fate when she told Arie on a group date that 22-year-old Bekah didn't look ready for marriage. While I think that Arie's own reservations about Bekah's age greatly contributed to his decision, Tia's confession to him definitely came across as a manipulative move to benefit her own chances in the competition.
Add that to such an obvious hot seat interview, and you can tell Tia is clearly gunning for that classic red Bachelorette dress come this spring. But with women like Seinne gaining more support to be the next lead, a majority of Bachelor Nation seems to want Tia vying for love on Paradise rather than starring on The Bachelorette.
Tia's attitude toward Bekah isn't the only thing that has people convinced she'd be better off on Paradise. Since the 26-year-old first appeared on The Bachelor, we've known that one of her hometown friends is Season 21 alum Raven Gates, who developed a lasting relationship on Paradise last year with former Bachelorette contestant Adam Gottschalk. Tia and Raven are basically twins, so fans have interpreted their similarities as both being able to thrive in the Paradise atmosphere.
In a deleted scene from the recent Bachelor episode of hometown dates, Tia even introduced Arie to Raven and Adam, further establishing her connection to such a successful Paradise pair. All she needs now is a blessing from Carly Waddell and Evan Bass or Jade and Tanner Tolbert, and her suitcases for Paradise might as well be packed.
Tia addressed the possibility of a Paradise stint in post-"Women Tell All" interviews, telling Entertainment Tonight:
I would love to be in Paradise. I would love to continue on this Bachelor journey. Obviously [Raven] had such a great experience with the show that it made me wanna go on the how, and I can honestly say that it's one of the best experiences of my life. I have no regrets.
I can't help but notice that Tia's go-to phrase in press interviews and on "Women Tell All" has been that she would love to continue being in the Bachelor world. Seeing your close friend go through the experience and come away with such a solid relationship is definitely enough persuasion that the franchise's formula can work. Having this unique perspective of the show and a hands-on look of how Paradise relationships can work totally makes Tia's potential Paradise appearance make sense.
Whichever way her future in the franchise may play out, Tia is definitely aware of The Bachelor's flaws. Speaking to The Hollywood Reporter, she said of the show:
Yes, we were competing for a man, but it's also about realizing our worth. It is just as much how we care for him as it is how he cares for us. I think it's something we forgot a lot, but these amazing women around me reminded me of that. We are worth more and our identity is worth more than just a single rose and we know that. I can't say enough good things about the experience.
If she's so willing to defend the slightly icky nature of The Bachelor, then perhaps Tia will welcome the co-ed, still-icky-but-somehow-less-gross setup of Paradise. We'll have to wait and see how the next few weeks go for her!
The Bachelor returns on Monday, Feb. 26 at 8 p.m. ET on ABC.