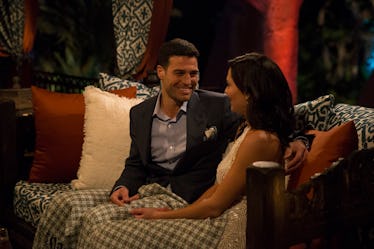 Grocery Store Joe From 'The Bachelorette' Just Weighed In On Going To 'Paradise'
ABC
Forget filling out my Bachelorette bracket with the men I think will claim Becca Kufrin's final four spots. My favorite Season 14 man came and went in the premiere episode when ABC introduced us to grocery store owner Joe Amabile, who won me over with his tall, dark handsomeness and his punny jokes about produce. Unfortunately, nerves got the best of Joe, and a flubbed limo exit seemed to contribute to Becca eliminating him at the end of the night. I'm not the only one who fell for Joe, so with so many fans on his side, will Joe Amabile go to Bachelor in Paradise? I have my fingers crossed to see more of him on my screen this summer.
The Chicago grocer unexpectedly captured the hearts of the internet during Episode 1. You can blame it on his Wells Adams-esque looks or the fact that a life with him would always ensure fresh fruit in your home, but Becca choosing to let him go was the big disappointment of the night (well, before Twitter caught on to an off-screen controversy). If you ask me, Joe deserves his own romantic comedy where a girl accidentally knocks over one of his fruit stands and then meets him, but the rest of Bachelor Nation has also gotten creative in their requests for Joe's redemption.
The support for Joe even warranted his own interview with Entertainment Tonight, who didn't hesitate in asking about his chances of appearing on Bachelor in Paradise. It's rare that someone eliminated on the first night of a season makes enough of an impression to be a Paradise possibility, but Joe is clearly the exception. He told ET:
I am single… I would like to [settle down]. I just turned 32 in April, I don't want to just continually go out... I can not confirm I'm on Paradise, but I would go, yes.
Excuse me while I make a list of matchmaking pros and cons between Joe and any of Arie Luyendyk's Bachelor women. But no pressure if things don't work out, Joe. There are plenty of women out there willing to help run your grocery store empire, but we'd love to watch you on Paradise first.
Host Chris Harrison even added fuel to this fire, dropping major hints that his production team has snagged Joe for the upcoming season of Paradise.
In case you want to keep notes on what Joe is looking for in a woman, his list is pretty basic. He told ET:
[I'm looking for] someone with a sense of humor. Genuine, attractive, nice smile.
Unless he wants a million ladies claiming they're his perfect match, Joe might want to specify those qualities a bit more.
Joe also spoke about his Bachelorette elimination, and it sounds like he has no hard feelings about Becca sending him home, as he said:
I was prepped, but I didn't think I'd get as caught up as I did. I was nervous. It just threw me off my game, and from there I felt like such an idiot! It was hard to open up or make friends; I was so unsure of myself... Becca and I did have a little more conversation... I expected to stay a little longer, but if she didn't feel a connection right away, I would've rather gone home than be there for a couple weeks and then have gone home. So I guess it worked out for the best.
If anyone is a little skeptical about people's intentions on Paradise, Joe actually comes across as someone who won't fall into Bachelor Nation's fame trap easily. He shared his Bachelorette casting journey with ET, and the story is sweetly innocent. Don't let me down, Joe!
I was approached and asked if I would like to try out. I was single, Chicago is cold and I figured, why not give it a shot? I was hoping to possibly fall in love. I was approached in Chicago in a Whole Foods... which is not my grocery store! I was asked if I'd like to try out, and I feel that everything happens for a reason, so I said, 'Yeah, sure, why not?' … I didn't go on the show hoping to become Insta-famous or anything like that, I'll just continue living my regular life [in Chicago].
Again, no one will really complain if you do become an Instagram celebrity, Joe. Here's Exhibit A proving why:
So, where do I go to meet Joe for coffee?
Let's hope we get some confirmation of Joe possibly on Bachelor in Paradise soon. The Bachelorette returns on Monday, June 4 at 8 p.m. ET on ABC.