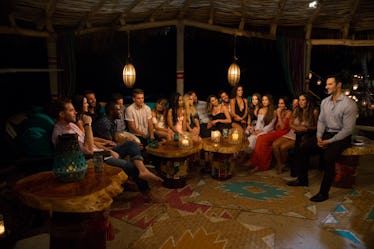 The 'Bachelor In Paradise' Season 5 Cast Is A "Who's Who Of Bachelor Favorites,' So Get Ready
ABC
We're in the final countdown to the start of Becca Kufrin's Bachelorette season on May 28, but if you're like me and have total faith in Becca finding her husband, the real summer TV hotspot is Bachelor in Paradise. While The Bachelorette can veer into melodramatic territory, Bachelor in Paradise is ridiculous, trashy fun, and it knows that it's ridiculous, but yet it can still pull off the unthinkable and create real adult relationships. Cast members for the show's upcoming fifth season have yet to be announced, but host Chris Harrison promises it'll be a "who's who of Bachelor favorites." Since Harrison's word is basically law in Bachelor Nation, the Bachelor in Paradise Season 5 cast is sure to be one of the show's bests.
In a recent interview with E! News, Harrison offered what he could about the new cast, telling fans:
The cast is being cemented right now. I've heard [about] some people. It's a who's who...of Bachelor favorites and a lot of obviously recent names that will be coming from this season of The Bachelorette, people that you haven't even met yet. Obviously, last season with Arie, you have a lot of great Bachelorettes from that. And then we want to sprinkle in some big hitters from other seasons as well. It's good. We have a lot of good names...and then there are surprises you're going to enjoy as well.
It's safe to assume that Season 5 will follow the casting formula its predecessors have normalized over the years. The chunk of the cast will likely include men and women from the most recent Bachelor and Bachelorette seasons, but Bachelor in Paradise also loves casting contestants for a second or third time. Case in point: Bachelor Season 19 star Ashley Iaconetti starred on the spinoff series for two straight seasons and appeared on the debut season of Bachelor Winter Games earlier this year. On Winter Games, she began a relationship with Bachelorette Canada alum Kevin Wendt, but the couple ended things soon after filming wrapped. Could we see fan favorite Ashley return to Paradise for a crack at some of Becca's former men?
Meanwhile, the squad of Bachelor women that Becca cuddled with on "After the Final Rose" are all but confirmed to appear on Paradise. They were keeping a close eye on the men introduced to Becca there for a reason, right? I definitely have my fingers crossed to see Kendall Long, Tia Booth, and Seinne Fleming on this year's cast list. Even Caroline "I know what you did" Lunny would do a spectacular job of keeping those Paradise men in check this summer.
On the live Bachelor finale special, Harrison even called Bekah Martinez's mom to run the Paradise stint by her, so it looks like ABC can hire 23-year-old Bekah without her mom thinking that she's MIA. Bachelor Season 22 "villain" Krystal Nielson also seems like a guarantee too, because what's a season of Paradise without some girl drama?
Ever since the surprise success of Bachelor Winter Games, ABC has also teased that the upcoming Paradise season would feature some of Winter Games' beloved international stars. In March, Robert Mills, the senior vice president of alternative programming at ABC, shared what he thought about some of the foreign franchise alums popping up on Paradise, telling E! News:
I definitely think you'll see some international faces, but not sure how many or where they are going to come from. [We are looking to bring back] people that you're familiar with from Winter Games unless there are [other international contestants] that are absolutely fantastic.
So, in other words, Yuki Kimura for Paradise 2018? Recently speaking to PEOPLE, Harrison hinted at the standout Winter Games contestant from Japan appearing on the summer show, saying:
I have one word for you: Yuki. I'm not saying she's on Paradise, because I can't announce something like that, but I will say you might see Yuki.
Let it be known that even if she isn't competing for love on Paradise, I'd love to see Yuki tend bar alongside Wells Adams this year. Even if it isn't meant to be for Yuki, we still have the enjoyable task of labeling new men as Paradise bait when The Bachelorette premieres next week. We can always look over past Bachelorette rosters to debate about which old contestants are likely to appear this summer, but as long as Dean isn't there, I think we'll be cool with anybody.
Season 14 of The Bachelorette starts on Monday, May 28, at 8 p.m. ET on ABC. Season 5 of Bachelor in Paradise premieres later this summer.