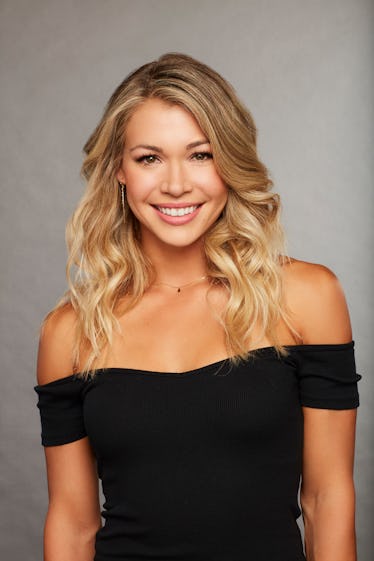 Krystal From 'The Bachelor' Thinks She's A "Good Fit" For 'Paradise' & We Can't Argue
ABC/Chris Sjodin
Krystal Nielson made quite the impression on Bachelor Nation during her time on Arie's season of The Bachelor. The contestant's actions were polarizing to say the least, and although she drummed up plenty of drama among the women and the show's leading man, her attitude rubbed some people the wrong way. But this franchise is not without its second (or third) chances... So, of course, fans of the show are wondering: Will Krystal be on Bachelor in Paradise? There's always the possibility she could return for more reality TV adventures.
Season 22 of The Bachelor hasn't even reached its conclusion and Bachelor Winter Games has one more episode to go, yet viewers are already speculating on which alums might head to Paradise over the summer. Krystal, who became the designated "villain" of the current Bachelor season before getting eliminated, might just be a natural choice for the series. We wouldn't mind seeing her in a different — and potentially more relaxed — environment with some Bachelor experience under her belt. But would she consider the position? "I'm totally a beach girl, so it could be a good fit," Krystal recently revealed to E! News. "If at the time I am single I might be open to it!"
Krystal's Bachelor journey was one rocky ride. One particular moment that created mega tension was a meltdown she had after Arie made a change of plans on a group date. After a bowling competition where the winning team was told they would get more time with the leading man, Arie decided to award the losers the privilege as well to make things more fair. Well, this last-minute switch did not go over well Krystal (note: she was one of the winners), which resulted in a tantrum and a refusal to go to the cocktail party. Arie confronted her in an awkward exchange and even though he kept her around for another episode, things just weren't the same between them from that point on. Arie blogged in People following Krystal's elimination,
When it comes down to it, I just knew I'd never be able to really trust Krystal again. There were too many red flags at this point and, though I tried, I could not get over her meltdown in Fort Lauderdale. I wanted to give myself a chance to get over that incident and see if we could recover, but none of her apologies were able to repair what was broken.
It wasn't just Arie who had issues with Krystal's antics — the other contestants weren't having it either. She particularly clashed with both Bekah and Kendall throughout her Bachelor stint, as they both called her out on her behavior.
Krsytal will have the chance to address Arie on this Sunday's The Women Tell All special, so perhaps we'll get further insight into what went down and what they need to get off their chests. It looks pretty juicy.
Now that the whole Arie thing is in the rear view mirror, Krystal is moving on while embracing the past. "Every emotion I felt, I felt it in the moment and I really poured myself into this whole process and experience so I have no regrets," the 29-year-old revealed to Entertainment Tonight. "I just felt very misunderstood in this whole entire journey and I got very in my head," she explained.
Krystal appears to be "getting back to basics" these days — the fitness coach's Instagram is full of workout inspo and chill SoCal vibes.
This beach bunny is clearly in her element under the sun, so we would not be surprised to see her in Mexico for Paradise come summertime.