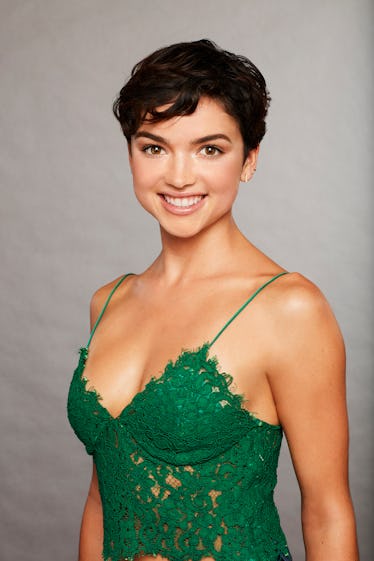 Bachelor Nation Really Wants Bekah M. To Go To 'Paradise,' Here's What We Know
ABC/Chris Sjodin
Season 22 of theThe Bachelor is still currently running, but that doesn't mean we can't anticipate one of our fave summer series: Bachelor in Paradise. We can just hear that dreamy theme song now... Chris Harrison running playfully on the beach... Sweaty rose ceremonies under amidst thick, tropical night air... Unfortunately, we don't know who will be competing in Mexico just yet. There's no cast list at this time, but many fans are wondering: Will Bekah M. be on Bachelor in Paradise? Just because she was eliminated from Arie's season doesn't mean her reality TV journey is over.
Bekah, like many contestants who have been asked if they would continue participating in the Bachelor-verse before her, is employing the old "we'll see" response these days. "We'll just see what happens," the Los Angeles nanny told E! News at the Women Tell All taping, regarding her plans for Paradise. She added,
I don't know if that's where I'm at right now, if that's what I'm ready for, but we'll see! It's actually kind of funny, it's been three months since the show was filmed and this is the first time in my life where I'm really taking a pause on my dating life actually. I'm very happy being single right now and working on myself and working on all the hobbies that I want to develop further and just enjoying my relationships with friends and other people. Maybe it's just Bekah time right now, we'll see!
You take all the Bekah time you need, but just know that Bachelor Nation is hoping you'll make an appearance on their screens again someday.
And even though Arie sent Bekah home in the show's seventh episode, this season's leading man is endorsing her for a place on BIP. He told E!, "I think Bekah M. could be a hit in Paradise. She'd be entertaining!"
We have to agree. Spunky Bekah showed a lot of humor and heart throughout her time on The Bachelor. Yes — she was on the young side for the show at 22, but her connection with Arie was undeniable and she was a lot of fun to watch.
Bekah also weighed in to Variety on whether she would head to Paradise, again citing how she's focused on herself right now:
I don't know if I would be ready to pursue a relationship with people yet – not because I'm not ready for a relationship but because I'm kind of savoring the moment right now of just being me. It's the first time I've really gotten a chance to do that.
Although Bekah was sent packing in Italy prior to the Bachelor hometown dates, it didn't stopping her from jokingly chiming in on what that crucial meeting could have looked like if Arie visited her family in Fresno, and how her father has responded to the show. Apparently, dad wasn't a loyal viewer of Bekah and Arie's moments together:
If Bekah does find herself in Mexico this summer, there are a handful of other franchise alums who could be joining her for some fun in the sun. Krystal, a polarizing contestant on Arie's current season eliminated in week 6, expressed potential interest in giving Paradise a shot.
Bachelor Winter Games cast member, Stassi, also recently dished about if she would make the trip. As it turns out, being the next Bachelorette is more her speed. "If they're going to bring in the real people who really want to find a life partner and not just for some other reason, then I might do it, but I'm into more Bachelorette," the former Bachelor Sweden contestant told E! News.
"I think you'll see Bachelor Nation go Bachelor World and that includes Paradise," executive producer Bennett Graebner revealed about the international future of show. You never know who could show up in Mexico now that Winter Games is in the mix.
If Bachelor Nation gets their wish, Bekah Martinez will be on the cast list of familiar franchise faces come summertime.