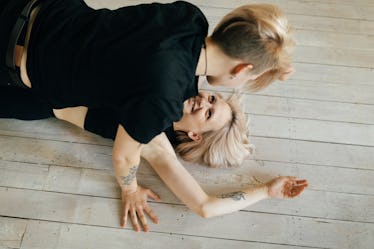 7 Women Talk About The Most Surprisingly-Good Sex They've Ever Had & I'm Screaming
There's a certain joy that comes with finding what you think is an amazing 70s dress, only to learn that the garment is, in fact, a 70s jumpsuit. This feeling — that you were already going to buy an item for it's pattern or color and then finding that it hits your curves and makes you feel like Jackie Burkhart — can only be compared to having surprisingly-good sex. You're already in, and into it, but the sex being better than expected is a new level of happy. When you're on a date, or just hanging with a new boo, it's not always possible to tell just how good the good stuff is going to be. If you're feeling comfortable with someone, and feeling like you definitely want to get it on, having it turn into like, the best sex ever, is just icing on the cake.
Maybe you got back on Tinder after a breakup and haphazardly went to the Goodwill outlets with someone who looks like a skinny Hagrid, only to have literally amazing sex after (hi) or maybe you said what the hell! and gave a barista your number, which ended in them giving you a latte of lovin'. Whatever the encounter, having sex that turns into ohmygod sex, is one of the best feelings ever.
I spoke with seven cuties about feeling yourself and the times shackin' up with a new boo went surprisingly well.