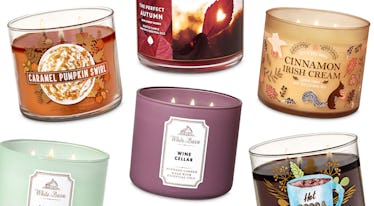 Here Are The New Scents In Bath & Body Works' Fall Candle Collection That You NEED
I know it's 90 degrees outside and I'm sweating through my tank top, but can we take a moment to plan ahead and discuss autumn? In particular, I want to talk about what's in Bath & Body Works Fall 2019 Candle Collection, because when you see this lineup, you'll be daydreaming of color-changing leaves and cooler temps. Along with the brand's iconic fall scents, this year's collection will introduce some brand new candles that are bound to become instant classics, so believe me when I say it's really not too early to stock up. Plus, the brand's candle packaging just keeps getting better and better, so there's always an excuse to add a few new picks to your collection.
Personally, my fall vibes of choice are sugary sweet: Think apple cider, cinnamon sugar donuts, pumpkin pie, et cetera. However, others enjoy fall scents that tap into the natural fragrances of great outdoors — that's why Bath & Body Works's Leaves candle is one of their very best sellers. And of course, fall holidays like Thanksgiving and Halloween have their own special category of scents; heavy on the pumpkin, thank you very much.
It's a good thing fall candles are already available in stores and online now, so you have plenty of time to decide which scents you like best:
Holy moly, that's a lot of candles! Allow me to share a few of my faves to help you sort through this massive new drop. A few that caught my eye right way were scents inspired by settings. In particular, Frozen Lake ($25, bathandbodyworks.com) with refreshing notes of lavender, eucalyptus, and juniper berries, and Wine Cellar ($25, bathandbodyworks.com), with notes of mulled apples, fresh fig, and cedarwood.
Frozen Lake is an amazing pick if you like scents reminiscent of the great outdoors, but still want something light and fresh:
And the Wine Cellar candle paired with a nice bottle of your favorite wine is an A+ hostess gift, just saying:
Another scent that caught my eye was The Perfect Autumn ($25, bathandbodyworks.com). That's a bold name with a big claim if I've ever seen one! This candle combines a multitude of fall's most specific smells, including cranberry, spiced pumpkin, apple, and clove.
If you want one all-encompassing scent for Fall 2019, The Perfect Autumn is it:
Can we switch gears and talk about my faves, aka the sweet scents? I've never been so excited to smell a candle as I am to sniff Cinnamon Irish Cream ($25, bathandbodyworks.com), because yum. Fragrance notes include cinnamon spiced liqueur, Irish cream, and French vanilla, so yeah. This one is going to be especially delicious.
Consider it an autumnal happy hour in candle form:
Other beverage-related picks are Hot Cocoa & Cream ($25, bathandbodyworks.com), with decadent notes of milk chocolate, steamed milk, and mini marshmallows, and Caramel Pumpkin Swirl ($25, bathandbodyworks.com), which sounds an awful lot like my fall Starbucks order, and has notes of caramel, ground cinnamon, brown sugar, and creamy vanilla.
To be clear, both of these delicious candles are calorie-free:
However, you can feel free to sip the drinks that inspired the scents whenever these candles are lit, so as to achieve the full effect:
It's safe to say there's a wide variety of scents this year, and the above are only a handful out of the the 34 fall candles already live on the Bath & Body Works website and on the shelves in stores now. Happy candle hunting!