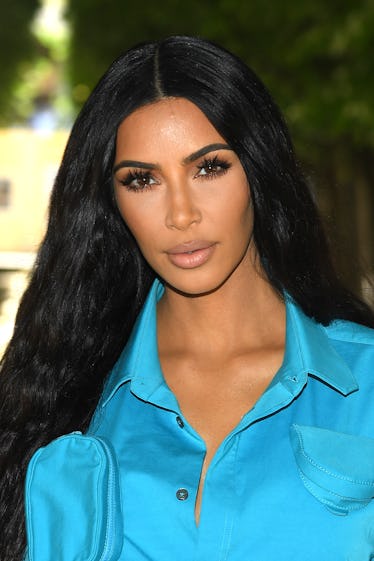 Kim Kardashian May Have Just Revealed Chicago's Middle Name & It Will Sound Familiar
Pascal Le Segretain/Getty Images Entertainment/Getty Images
Back in the early winter, there was a fan theory making the rounds that Kim Kardashian was going to name her baby Noel. It made perfect sense, considering her surrogate was reportedly due right around Christmas Day. And as a girl with a Christmas-y name myself, I was totally digging it. I suspect Kris Jenner was too, given the fact that Noel is actually Kim's middle name! Of course, as we all now know, Kimye decided to name their baby girl Chicago. But what's Chicago West's full name? Does she really not have a middle name? It definitely didn't seem like she had one, and I was OK with that, weren't you? After all, her big sibs North and Saint don't have middle names, so it was all totally sympatico.
But the Kardashians wouldn't be the Kardashians if they didn't like to mix things up every once in a while in order to catch us off guard. You know, like that time Kylie finally confirmed that she was pregnant by announcing that she'd already had the baby? And today, KKW hit up Instagram with a post that looks suspiciously like a baby middle name reveal. Which is something I think she totally just invented. Anyway, it's a picture of herself and baby Chi using the Snapchat heart filter, and the caption reads: "💕 Chi 💕 Noel 💕."
It's unclear what exactly Kardashian meant by her captions, but fans are speculating that she's given Chi her middle name. Elite Daily reached out to Kardashian's team for comment, but did not hear back by the time of publication.
Now, on the one hand, Chi Noel kind of sounds like a new Christmas-themed drink you can get at Starbucks. And now I totally want one. But on the other... it kinda sounds like this is Kim's way of telling us Baby Chicago's full name. Chicago Noel West. Yup, I'm into it.
And don't forget that Kim and Kanye's oldest daughter's name is North, which has holiday ties when you put it together with the word "star," as in the North Star. And their son's name is Saint. So now, all three names fit into a nice, little most-wonderful-time-of-the-year theme, and it's actually kind of perfect. Even grandma Kris spells her name with a "K" like a certain Mr. Kringle.
So to recap:
1) Kim posted a picture of Chicago with the caption "Chi Noel."
2) Kim's middle name might be Noel.
3) If Chi's middle name is Noel, Kim just invented baby middle name reveals, and it's suddenly Christmas in July, because this is the gift I didn't see coming and didn't even know I wanted, and you just know this is going to be a thing now.
So will we get similar middle name reveals for North and Saint? I have to admit I'll be low key disappointed if we don't. Kim never did get to use the name Eve, which was part of another fan theory that had to do with completing the directional acronym NSEW using all of Kimye's kids' names. There's North, Saint (South) and West, all that was missing was the "E."
Obviously, this theory was torn to shreds once the name "Chicago" was revealed. But maybe Kim will co-opt Eve and use it as North's middle name. It does fit the Christmas theme, you guys! And what about Saint? Will he get the middle name treatment too? Because if they do decide to give one to the little guy, it kind of has to be Nicholas, right? As in St. Nick?
Although, if we're being honest, I'm still kind of waiting for one of the sisters to name a baby after their late father Robert Kardashian, so I'm actually hoping Saint ends up with the name Saint Robert, like all the news outlets were initially reporting, even though it wasn't true. Let's hope that this means Chi's middle name is Noel because I'm so ready for middle names to be "in" again.