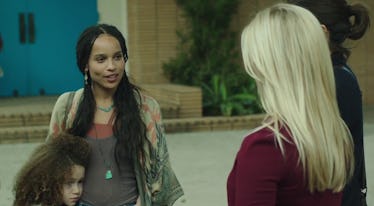 'Big Little Lies' Has Cast Bonnie's Parents For Season 2 & They'll Play Major Roles
HBO
When HBO revealed that it would be producing a second season of Big Little Lies, every fan began speculating about what the new story will be about. After all, the first season was adapted from Liane Moriarty's 2014 novel of the same name, and Moriarty hadn't written a sequel. Most speculation turned to the characters that played a big part in the last few moments of the novel but weren't mentioned in the show: Bonnie's parents. Well, now we have confirmation that Bonnie's parents joining Season 2. So, what's Bonnie's backstory on Big Little Lies? Season 2 sounds like it is going to revolve a lot around Bonnie.
HBO just confirmed that Martin Donovan (Weeds, Ant-Man) will recur in Season 2 of Big Little Lies as Bonnie's father Martin Howard. Donovan will appear alongside Crystal Fox, who was cast last week in the role of Elizabeth Howard, Bonnie's mother. It definitely sounds like the parents are taking over in Season 2, since we also know that Meryl Streep is coming to Monterey as Perry Wright's mother.
And the confirmation of Bonnie's parents joining the cast may also be a big hint as to what the new season of Big Little Lies will be about. In the book, Madeline Mackenzie discovers that Bonnie had an abusive father, and that's why Perry's domestic violence set her off so much, to the point where she killed him. However, the TV show never mentioned anything about Bonnie's parents or an abusive past in the first season. It looked like the show might just ignore or change that detail from the book, but now that we know Bonnie's parents are a major part of the second season, the series will likely be diving into her abusive upbringing.
It does sound like the HBO series will make one major difference from the book, though: In the novel, Bonnie was abused by her father, but the casting announcement for the show lists Bonnie's mother as emotionally abusive. Martin Howard may actually be the good parent, with Elizabeth Howard as the parent who scarred Bonnie.
Another reason why Bonnie will probably be at the center of the new season? Well... she killed Perry. Season 1 of Big Little Lies ended with Madeline, Celeste, Jane, and Renata all agreeing to keep Bonnie's involvement in the murder a secret during police questioning of pretty much the whole town. It looked like they were able to get Bonnie off scot-free, but with Perry's mother coming to town in Season 2, the women will probably have to work even harder to try to protect Bonnie.
There's also the question of why Bonnie's parents might show up in Monterey, which brings up even more possible theories about where Season 2 might take us. Since we've never seen or heard of them before, and we know that Bonnie had an abusive childhood, it's pretty safe to assume that Bonnie's parents don't live nearby. If they are coming to town, something pretty major must have happened, right? Something involving Bonnie.
I am definitely speculating wildly here because it's way to early to know plot details, but my guess is that Meryl Streep's character of Perry' mom starts to suspect Bonnie of killing her son, and when the police start looking into Bonnie, her parents hear about what's going on and come to town to be with her during some sort of trial or investigation.
Whatever happens, it is clear that we will definitely be learning a lot more about Bonnie in Season 2 of Big Little Lies, which sadly will not premiere until next year.