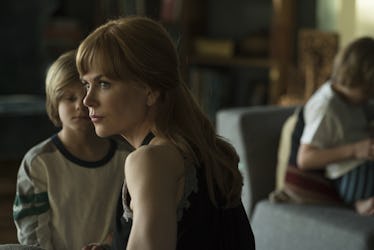 The First Look At Meryl Streep In 'Big Little Lies' Season 2 Is Here & OMFG
HBO
Big Little Lies was one of HBO's biggest series last year, with a star-studded cast of Nicole Kidman, Reese Witherspoon, Laura Dern, Zoë Kravitz, and Shailene Woodley. (Oh and there were a few men, too.) So how does the female-led, female-produced series top that for their follow up? Try bringing in 21-time Oscar-nominated Meryl Streep for her first major TV series role since 2003. Filming has now begun for the new season and we've got our first look at Meryl Streep in Big Little Lies Season 2.
Since filming commenced last month, the cast has been posting Instagram photos of themselves on set. Shailene posted a photo of herself as Jane, and Zoë posted herself as Bonnie. Reese Witherspoon, who both produces and stars in the series posted a photo of herself and Dern on the set in costume and makeup as Madeline (Martha Mackenzie) and Renata respectively. But we hadn't seen any images of Kidman, whose character, Celeste has the biggest changes going into Season 2 after the death of her husband Perry (Alexander Skarsgård).
That ended today when Kidman posted a photo of herself on set as Celeste, along with the actors who play her children, as well as Streep, whose role this season will be that of Celeste's mother-in-law, Mary Louise. Mary Louise moves to Monterey to help Celeste out now that she's a single mother, and to find out what happened to her son.
Via Deadline, here is a summary of our now "Big Six", and a synopsis of what their characters will be facing in the new season.
Woodley plays Jane Chapman: While processing Perry's sudden death, Jane is trying to build a new life for herself and Ziggy. Dern is Renata Klein: The epitome of control, Renata is now faced with new challenges in her marriage. Kravitz plays Bonnie Carlson: Bonnie struggles with Perry's death and is forced to face demons in her past. Kidman is Celeste Wright: Reeling from her husband Perry's death, Celeste is adrift, but determined to fight for her family and find the woman she once was. Witherspoon plays Madeline Martha Mackenzie: Finding that good intentions don't always yield good consequences, Madeline confronts the truth of Perry's death, while coming to terms with her own marriage and traditional notions of family. Streep is Mary Louise Wright: Concerned for the well-being of her grandchildren following her son Perry's death, Mary Louise arrives in Monterey searching for answers.
Big Little Lies was originally supposed to be a one-and-done miniseries, with the events of the television adaptation covering all the events of the Liane Moriarty novel it was based on. But the critical success of the show, along with the sheer scale of nominations and awards it received (including 16 Emmy nominations, of which it won eight) made Witherspoon and Moriarty reconsider.
Director Jean-Marc Vallée had said there was no reason to create a Season 2, he wasn't interested. So they heaved him overboard, and in December of 2017, Season 2 was greenlit. Moriarty outlined a treatment for a second season, from which David E. Kelly wrote the scripts. (There will be seven episodes, just like the first season.) Andrea Arnold will direct all seven installments.
Currently, HBO has said that they plan to air Big Little Lies Season 2 in the first half of 2019, though HBO Casey Bloys would clearly like to get it up sooner in order to qualify for the 2019 Golden Globes. He told Vulture that if production allows they will air it at the end of 2018.
Until then, filming for the highly anticipated second season continues, with fans hanging on every Instagram for more news.