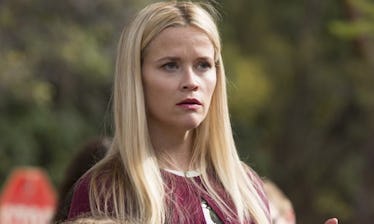 6 'Big Little Lies' Season 2 Theories That Will Hold You Over Until The Premiere
HBO
Our TV prayers were answered and now Big Little Lies Season 2 is officially underway. After last December's mega-announcement that what was originally planned as a limited series would be returning for another installment of Monterey drama, the teases and sneak peek pics are rolling in. Even though the show likely won't air until 2019, filming has begun and its only whetting our appetites for more Madeline, Renata, and company. We have a ways to wait, but the Big Little Lies Season 2 theories are holding us over for time being.
Behold! The mothers of Otter Bay Elementary are assembling once again. Zoë Kravitz, aka Bonnie Carlson the "zen" yoga teacher, took to Instagram last week to post a picture of her character's long braids. Now, stars Reese Witherspoon and Laura Dern are getting in on the behind-the-scenes action, sharing photos of their respective roles ready for their close-ups. Oh, we've missed Madeline and Renata. But what will become of them as the tides turn on the rocky California shores? Next season is shaking things up with new characters and plot lines, so of course we're curious about what's to come. Reese said in a statement that the series' next chapter "gives us the opportunity to delve deeper into the lives of these intriguing and intricate Monterey families and bring more of their stories back to the audience who embraced and championed them." Hmm. So, what does that mean exactly? Here are a few ideas... Spoilers ahead if you haven't finished Season 1 of Big Little Lies.
1. Bonnie's Past Will Be Explored
This is kind of given considering Bonnie was so significant last season — she shocked the heck out of everyone when she ended up being the one to push Perry (Alexander Skarsgård) in a fatal fit of rage. It's been reported that Bonnie's parents will be introduced next year, so we'll dive deeper into the backstory that brought her to where she is today. One difference between the book and the first season is it's revealed Bonnie's own father is abusive, which may have set her off. We can only guess that that might be touched on if we have the opportunity to get to know her family.
2. Mary Louise Wright Will (Try To) Uncover the Truth
Sound the alarm, Monterey. Meryl Streep is in your zip code. The Academy Award-winning legend will play Mary Louise Wright, Perry's mother, who is described as "concerned for the well-being of her grandchildren following her son Perry's death." Apparently she comes to town "searching for answers." If the local detectives don't get to the bottom of what really happened that night on the steps, maybe a mother's intuition will attempt its own investigation. We're already scared just thinking about her interrogating Celeste and her beach-combing mom buddies. They were just starting to look so blissful in that last finale scene...
3. Another Murder?
Could it be? Would this show go the route of creating another murder mystery for its second season? If a character were to meet their death, that would sure be a surprise way to hook in viewers for a second go-round at solving the case while watching. HBO has said that "relationships will fray, loyalties will erode [and] the potential for emotional and bodily injury shall loom." Well, it sounds like someone could get hurt.
4. Madeline's Marriage Will Unravel
Given the ambiguity of the finale, we have to wonder if Madeline's extramarital affair with Joseph will blow up in her face. Adam Scott will return as her husband Ed, who according to Variety, "is forced to confront major challenges in his marriage." The exploration of their domestic dynamic was one of the most subtly compelling elements of Season 2, so we're hoping we see more of their relationship ebbs and flows.
5. Perry (Alexander Skarsgård) Is Alive
Yeah, this one is highly implausible, but Skarsgård is set to return for the second season in some capacity. "I don't even know if I'm really dead or not," Skarsgård remarked at the Golden Globes. "I feel OK right now but we'll see." He was probably just trolling us, right?! It seems more likely the show will flashback to shed some light on his past with and without Celeste.
6. Madeline and Renata: BFFs?
Reese and Laura are giving us hope. The duo looks pretty chummy in this recently snapped photo, but as we know by now — nothing in this gilded coastal paradise is ever at is seems. Deception could be around every twisty corner.