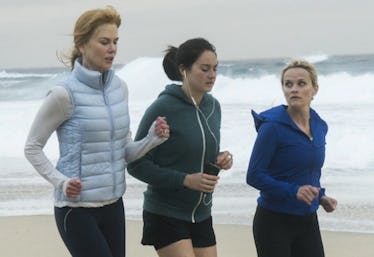 The First On-Set Photo From 'Big Little Lies' Season 2 Is Here & I'm Screaming
HBO
Get excited, Big Little Lies fans: The women of Monterey are back together for Season 2. The HBO Emmy-winning show has just started filming for its highly anticipated second season, and the first behind-the-scenes photo from Big Little Lies Season 2 will give you all the feels. Laura Dern posted a shot of her and Reese Witherspoon all dressed up as their respective characters, Renata Klein and Madeline Mackenzie, to her Instagram on Monday, March 19. The photo shows the two sitting in front of a seemingly fictional coffee shop in Monterey called Seaside Coffee Shop, and she captioned the post, "Madeline and Renata are back. #BLL2." *Screams internally*. Reese Witherspoon also posted the photo on her Instagram with the caption, "Watch out Monterey, here we come! #BLL2" *Screams externally*.
In a March 9 appearance on Late Night with Seth Meyers, Witherspoon gave some details about Season 2 of Big Little Lies. "So, y'all, we're starting next Friday on Big Little Lies 2. I can't believe it," she said. "Not only do we have every cast member coming back, but also Meryl Streep is joining us." Every cast member?! Blessed be the fruit!! Wait... wrong Emmy-winning show about women that started last year... OK, carrying on!
Will you just look at this photo of Laura Dern and Reese Witherspoon on the set of Big Little Lies 2!!
And here it is again on Witherspoon's Twitter just for good measure.
Witherspoon revealed during her interview with Meyers how she found out Streep was down to join the cast as the Perry Wright's mother, Mary Louise Wright. "Well, she sent an email to Nicole and I," she said. "And it said, 'OK, I read the part and I love it and I'm going to do it.'" She continued,
And I like dropped the phone, like mic drop, but I phone dropped. And then I called Nicole and I was like, 'Is this real life? Is this really happening?' And then I got off the phone with Nicole and I, like, hugged myself gently for a minute and said, 'This is really happening. You're really working with Meryl Streep.' And then I called the writer and said, 'You better write me good scenes with Meryl Streep!'
Just about everyone in the cast is freaking out about having Streep join them for the second season (as they should... it's Meryl freaking Streep!). Zoë Kravitz recently told Entertainment Tonight that she's basically fangirling over her new co-star. "I'm still having a really hard time casually saying Meryl in the first, like, just her first name," Kravitz said. "I had lunch with the cast and Meryl, and I still can't do it. Meryl Streep, you guys. Meryl f*cking Streep!"
Kravitz also posted a selfie from the set on March 16 that shows her all dressed up in her Bonnie gear.
She captioned the post, "Bonnie's. Back. #BLL2."
Shailene Woodley posted a photo with a similar caption to celebrate her dying her hair back to Jane's color in preparation for Season 2.
Woodley's caption read, "JANES BACK. #letsdothis #BLL2."
Nicole Kidman unfortunately hasn't shared any on-set photos from Monterey yet, but she did post an Instagram of her and Meryl Streep on Jan. 24 when Streep's casting in the show was announced. She captioned the post, "Welcome to the #BigLittleLies family Ms. Streep - can't wait xx." Kidman will likely have the most scenes with Streep out of anyone else in the cast, seeing as Streep is playing her mother-in-law. It's going to be interesting to see what Streep's character knew about Perry's abusive behavior before his death and seeing what happens if/when she learns about it.
When the second season of Big Little Lies was announced on Dec. 8, HBO said the season will "explore the malignancy of lies, the durability of friendships, the fragility of marriage and, of course, the vicious ferocity of sound parenting. Relationships will fray, loyalties will erode…the potential for emotional and bodily injury shall loom." DUN, DUN, DUNNNNN. JFC, I am so excited for this show to come back. There's no set premiere date just yet, but rumor has it it won't be coming back until 2019. Wayyyyy too long of a wait, for sure, but hey, at least we have Meryl!!