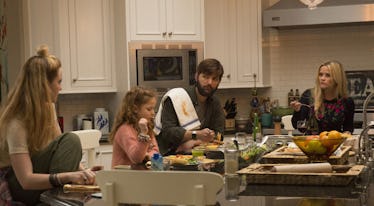 'Big Little Lies' Season 2 Just Added 2 New Cast Members To The Monterey Crew
HBO
Production is underway for Season 2 of Big Little Lies, so it is finally almost time to get back into the mystery-laden town of Monterey. As the show gets into the thick of its filming, HBO is now confirming a bunch of new and returning characters that fans are going to be seeing a lot of in Season 2. Check out all the updates on the Big Little Lies Season 2 cast below, and start getting pumped for the new season.
The two new cast members that Big Little Lies Season 2 is adding are Crystal Fox in the main role of Elizabeth Howard, and Mo McRae in the recurring role of Michael Perkins. Unfortunately, HBO did not release any details on these new characters, and the character names do not match any of the main cast, so we can't even deduce if they are related to someone. There is some speculation that Elizabeth Howard may be Bonnie Carlson's (Zoë Kravitz) mother.
Crystal Fox is a veteran actress who currently stars in the OWN drama The Haves and the Have Nots. Mo McRae is best known for his recurring role as Tyler Yost in Sons of Anarchy, and he has worked with Big Little Lies stars Reese Witherspoon and Laura Dern previously in the 2014 film Wild.
In addition to these two new characters, Big Little Lies is also confirming a bunch of Season 1 characters that will return for more drama in Season 2. Actors set to reprise their roles in the new season are: Kathryn Newton as Abigail Carlson, Robin Weigert as Dr. Amanda Reisman, Sarah Sokolovic as Tori Bachman, and Merrin Dungey as Detective Adrienne Quinlan. In addition, Newton and Sokolovic are getting bumped up to series regulars, while Weigert and Dungey's roles will remain recurring.
In case you forgot those names, here's a refresher. Abigail Carlson is Madeline Mackenzie's eldest daughter, whom she had with her first husband Nathan Carlson. Abigail's rebellious nature and preference for Nathan's new wife Bonnie really got under Madeline's skin in Season 1, and now that she is a main character, we can expect a lot more mother-daughter tension between the two in the new episodes.
Another character we will be seeing a lot more of around Monterey next season is Tori Bachman. She only had a tiny part in Season 1, as the wife of the school's theater director Joseph Bachman. Considering Madeline has been having an affair with Tori's husband, her promotion to series regular definitely means a lot more drama for Madeline and her marriage.
And finally, both Dr. Amanda Reisman and Detective Adrienne Quinlan will reprise their recurring roles in the new season. Dr. Reisman is Celeste's therapist, who helped her realize that her husband Perry was abusing her in Season 1, and Detective Quinlan is the police officer in charge of investigating Perry's murder.
This latest batch of new and returning stars join the already confirmed main cast of Big Little Lies Season 2, which will center on Reese Witherspoon as Madeline Mackenzie, Nicole Kidman as Celeste Wright, Shailene Woodley as Jane Chapman, Laura Dern as Renata Klein, and Zoë Kravitz as Bonnie Carlson. The new season is also bringing in new faces, including Meryl Streep as Mary Louise Wright, the mother of Celeste's murdered husband Perry Wright, and Big Love star Douglas Smith as an off-beat surfer named Corey Brockfield, who may just hit it off with Jane Chapman.
Unfortunately, fans are going to be waiting a while for the new season of Big Little Lies to premiere. Big Little Lies Season 2 will drop on HBO sometime in 2019.