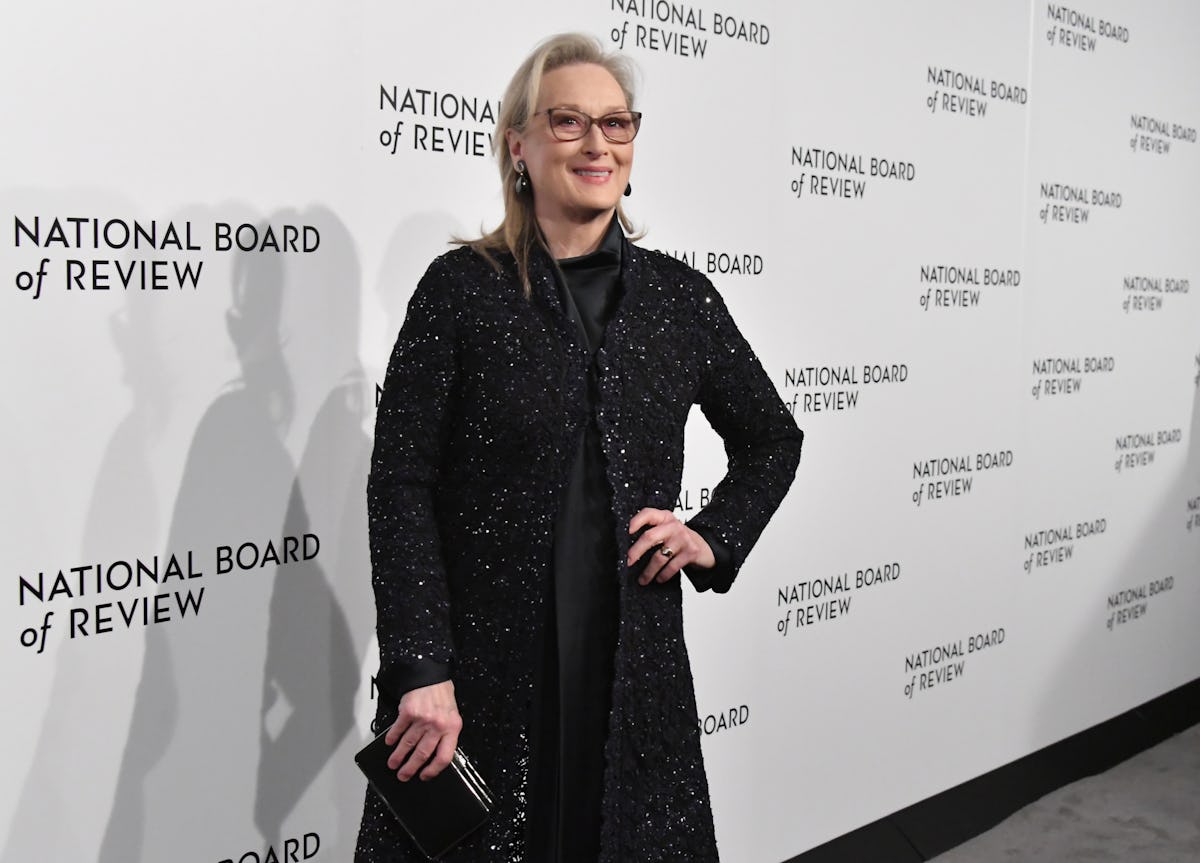 Meryl Streep Is Joining The 'Big Little Lies' Cast & Yes, We're All Screaming
Mike Coppola/Getty Images Entertainment/Getty Images
Reese Witherspoon and Nicole Kidman's successful adaptation of Big Little Lies just booked one of the biggest ladies in Hollywood, promising that Season 2 will arrive for awards season 2018 having pre-won from sheer star power. Meryl Streep will take a breather from her legendary Oscar run on the big screen and put the prestige into prestige TV once and for all by starring in Big Little Lies Season 2. But now the question is, who will Meryl Streep play on Big Little Lies? And how many Hollywood heavies can one HBO series hold?
Deadline reported that Streep will be playing a character with a very important connection to the women of Monterey:
Streep will play Mary Louise Wright, the mother of Perry (played by Alexander Skarsgard in Season 1). Concerned for the well-being of her grandchildren following her son Perry's death, Mary Louise arrives in Monterey searching for answers.
As the first official casting announcement for Season 2, it stands to reason that this may be the only one. Because once you've got Streep, it's hard to top that. However, there's no word on how many installments of the seven planned episodes Streep will appear in — good thing there's that Outstanding Guest Actor Emmy up for grabs.
Big Little Lies was HBO's best performer during the 2017 Emmys and again during awards season this month. Not only did it garner 16 Emmy Award nominations, of which it took home eight, but it also won four Golden Globes out of its six nominations and four Critics' Choice Awards out of its five nominations.
Then this past Sunday, all three lead actresses (Nicole Kidman, Laura Dern, and Reese Witherspoon) were nominated for Outstanding Performance by a Female Actor in a Television Movie or Limited Series at the SAG Awards. Ultimately, Kidman took home the prize, and the show also scored another SAG Award when Skarsgard won for Outstanding Performance by a Male Actor in a Television Movie or Limited Series
Such winning cred makes Meryl Streep a perfect fit. She's now a 21-time Oscar nominee, with three wins under her belt and counting.
Season 2 will also see the return of both Kidman and Witherspoon to their roles of Celeste Wright and Madeline Martha Mackenzie. Most of the original cast will also return, though deals are still being worked out for Dern and Shailene Woodley, according to Deadline.
David E. Kelley will once again write all seven episodes. Without a novel to work from this time, Deadline reports that he's instead creating scripts with the help of the author of Big Little Lies, Liane Moriarty. (This is much like what's happening at Hulu for The Handmaid's Tale Season 2.) Director Jean-Marc Vallée, who initially balked at the idea of a sequel, will not be returning to work on the next installment, as reported by TV Line. Word is that Witherspoon and Kidman plan to replace him with a female director.
In HBO's announcement of Big Little Lies renewal, it gave the following synopsis for Season 2:
The subversive, darkly comedic drama Big Little Lies will explore the malignancy of lies, the durability of friendships, the fragility of marriage and, of course, the vicious ferocity of sound parenting. Relationships will fray, loyalties will erode…the potential for emotional and bodily injury shall loom.
This is the first time in 15 years that Streep will return to HBO. Her last production with the cable channel was back in 2003, when she starred in the Angels in America miniseries in the Hannah Pitt/Ethel Rosenberg/Rabbi/Angel Australia role, back in the very early years of the prestige TV era, when it was really just "Wow, The Sopranos." She won an Emmy for it, naturally.
Streep's last television gig was playing Camilla Bowner in Lisa Kudrow's Web Therapy series on Showtime back in 2010-2012. As we all know, between those two gigs and this one, she's kept busy by breaking the Oscar nominations record and then breaking it again just for fun. When you're Meryl Streep, it's what you do.
Big Little Lies does not have a return date set on HBO yet, though most assume it will arrive in time for the 2018-2019 TV season.