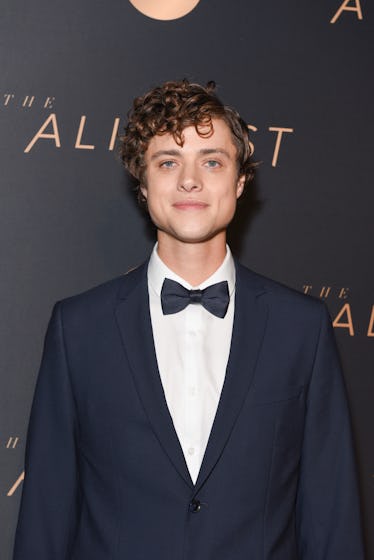 'Big Little Lies' Season 2 Just Added A Hot, Young Surfer To The Cast, So Get Ready
Presley Ann/Getty Images Entertainment/Getty Images
Just when you thought next season of Big Little Lies couldn't get more exciting (oh, hey, Meryl Streep!), there are even more new cast members to look forward to meeting. Details have been trickling in about the fresh faces set to spice things up on the Cali central coast, including recent reports about an intriguing character who has ties to Shailene Woodley's Jane Chapman. Who is Douglas Smith? According to Deadline, the actor will be playing "Corey Brockfield, an off-beat surfer, aspiring marine biologist and Jane's (Shailene Woodley) co-worker." Spoilers ahead if you have not finished the first season of Big Little Lies.
You may recognize 32-year-old Canadian actor Douglas Smith from his turn on his recent turn in The Alienist, 2016's Vinyl, or his role in Big Love, which ran from 2006-2011. He's also appeared in films like Miss Sloane, Ouija, and Percy Jackson: Sea of Monsters. Smith has been performing since his childhood days — if you're a fan of 2004's guilty pleasure teen comedy Sleepover (actually, I'm guilty of nothing but enjoying quality entertainment), he played Gregg. Now Smith has landed a role in one of TV's most buzzed-about series, Big Little Lies. "Off-beat surfer" sounds like a personality description that could hit it off with Shailene's more laid-back Jane. Perhaps the Monterey mom is getting a new love interest?
Season 1 of Big Little Lies revolved around Jane's Monterey newbie status — the young mother dealt with elementary school politics, accusations that her son was a violent bully, and just generally fitting in with the parenting culture of the isolated wealthy enclave. She also struggled with the emotional burden of finding and facing the man who raped her. Fans are curious about seeing what the leading ladies on BLL are handling in Season 2 — Madeline, Renata, Celeste, Bonnie, and Jane all have stories to tell that are sure to keep audiences hooked even if there's no murder to solve along the way. Last season, Jane came off as a down-to-earth beacon of reality among the women. She wasn't too bogged down by petty Otter Bay happenings or local feuds, unless it directly threatened her and her kid. It will interesting to see how her life unfolds now that certain dramas are behind her. Or are they?
"I want to explore more about how Jane is choosing to heal from the traumatic situation she endured and kind of explore the emotional intricacies of that, because we don't really get to go to deep into it in the first season," Shailene remarked on her hopes for the future of her BLL character in Season 2.
Shooting for the next installment of Big Little Lies is underway and in addition to Smith's surfer dude, audiences will also get to know the parents of some of the show's established characters. The legendary Meryl Streep is infiltrating the inner circle as Perry's (Alexander Skarsgard) mom, who will be searching for answers surrounding her son's death. Bonnie's (Zoe Kravitz) family is also slated to make an appearance. Next season looks as though it will go deeper into the psyches and histories of the compelling group viewers got so invested in back in Season 1.
"The subversive, darkly comedic drama Big Little Lies will explore the malignancy of lies, the durability of friendships, the fragility of marriage and, of course, the vicious ferocity of sound parenting. Relationships will fray, loyalties will erode… the potential for emotional and bodily injury shall loom," HBO said in a statement regarding the second season's description.
While last season's central thread was the unraveling the complex timeline leading up to Perry's killing, there's no word on if another similar mystery will be introduced in the upcoming chapter.
Big Little Lies Season 2 isn't slated to air until sometime until 2019, which gives fans more than enough time to over-analyze the impending social media sneak peeks, casting announcements, and plot teasers.