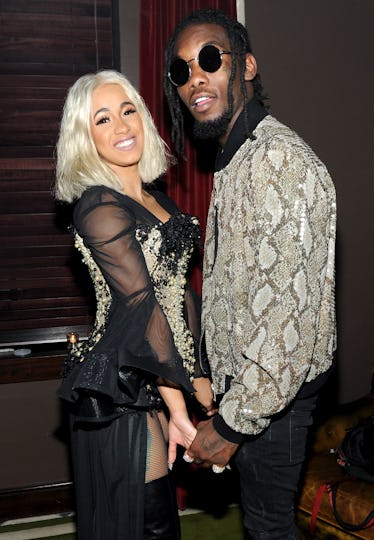 Cardi B Just Gave Major Details About What Her Baby's Name Will Be
Craig Barritt/Getty Images Entertainment/Getty Images
Listen up, people. I know that the world is still digesting the arrival of True Thompson, Khloé Kardashian's daughter, but there's another baby that we have to start preparing to make way for, and that's Cardi B and Offset's child. On Saturday, April 7, Cardi took to the stage as a musical guest on Saturday Night Live and confirmed her pregnancy after wearing a fitted white dress that showed off a growing baby bump during her second performance. It was, in one word, glorious, and fans are beyond excited for the rapper and performer to welcome her first child into the world. But as with all celeb babies, everyone wants to know one thing: What will Cardi B and Offset name their baby? There are some fantastic suggestions on Twitter, but it looks like the engaged parents-to-be already have a name picked out, so no more input is needed, fam.
Cardi B went on The Ellen DeGeneres Show on Thursday, April 19 and talked about the big pregnancy reveal on SNL. "You know what? I was nervous for my second performance. For my first performance I was like, 'Eh! Party with Cardi! Ooh!' And then in my second one, I don't know—I was sweaty," Cardi B said. "My underarms started itching because it's like, 'Oh, my God! The world gonna know I'm pregnant! Oh! Here we go! Opinions! Coming!'"
Honestly, I can't even imagine how many emotions were running through her mind at that point.
And even though Cardi B's baby bump was super visible on SNL, when she was sitting down with DeGeneres, it was pretty non-existent. The reason? Spanx. "I got Spanx. I got three layers of clothes," Cardi B said. "You know what I'm sayin'?"
Oh believe me, Cardi, we get what you're putting down.
They chatted about Cardi B's fantastic Coachella performance, twerking on stage in all her glory, and Cardi joked that she "was just trying to show the world how I got pregnant in the first place. Like that! Like that! That's how it happened."
"We were all curious and we didn't know how," DeGeneres joked. "Now we do, and that's great!"
Later on, Cardi started talking about her pregnancy cravings (apparently, it's "ice cream" and "anything lemon-ish" this week), and DeGeneres whipped out some doughnuts to ensure that Cardi got her fix of sweets for the day.
But then Cardi B and DeGeneres got to talking about whether or not she and Offset have a name picked out for the baby already, and it turns out, they do! "My dude [Offset] named the baby. I really like the name. Imma let him say the name since he named the baby," Cardi B said. "It's, like, almost tricky but when it comes out, it's like, 'Ahh!'"
Ugh, you're killing us, Cardi!
It looks like we won't know the name choice anytime soon. Womp womp. But that doesn't stop people from guessing.
Fans on Twitter had some ~ideas~ about what Cardi B and Offset should name their child. While some had actual theories, most were just bringing jokes to the table:
Then, pretty much everyone decided to go with the obvious joke of naming their child Offspring. (Get it? Offset? Baby? Offspring?! I'll see myself out now.)
She did mention that the name was going to be "tricky" though, so I'm pretty sure that none of these suggestions made the cut.
Whatever these two decide to name their child, we know that he or she will be one lucky kid having two talented artists as parents.