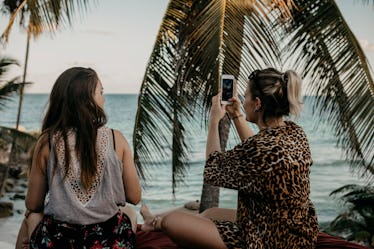 Pack These 10 Things In Your Carry-On For Spring Break & Sunbeams In Mexico
Westend61/Westend61/Getty Images
It's that time of the year when college students — like yourself — are gearing up for spring break. Some of your crew may be going to Europe, while you and other BFFs are headed for the sun and surf in Mexico. Do you have your packing list together yet? If not, this is a definitive list of everything you'll need for your upcoming vacation. Never again will you wonder what to pack in a carry-on for spring break in Mexico.
That's a relief, right? Packing is probably one of the most stressful parts of going on a trip, next to getting to your gate on time. Having a list of everything you need prevents you from having to scroll through Pinterest posts and text your BFFs messages in the group chat like, "Do I need multiple pairs of flip flops, or just one?" It gives you additional time to organize your clothes in your carry-on, put together a playlist for the plane, and print out any travel documents you need before take-off.
Not to mention, it lets you put your focus on downloading apps for long flights and gathering inspo for the inevitable pics you'll take with the hotel's pool or ocean waves. Without further ado, here's exactly what to pack in your carry-on for spring break in Mexico.