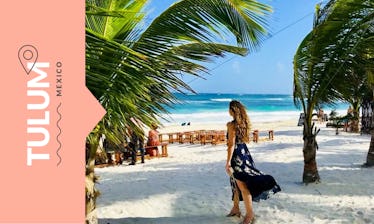 Wander or Bust: Tulum, Mexico Already Has A Natural Instagram Filter
Wander or Bust is an Elite Daily travel series that follows young women all over the globe to record their journeys as they experience the thrill of the far-flung and unknown.
They'll track their budgets, where they stay, where they eat and drink, and where they took that amazing Instagram that got them ~maximum exposure.~ The internet is full of travel advice, but none from women just like you. Read on for the tips no one else gives you, and when in doubt, get on the plane.
Here's Kaitlyn Cawley's Wander Or Bust guide to Tulum, Mexico.
My Name: Kaitlyn Cawley
What I Do: Editor-at-Large, BDG Media
Where I Live: Brooklyn, New York City, USA
Where I Went: Tulum, Mexico
How Long I Stayed: 5 days, 4 nights
My Spending Style: Occasionally indulgent
Where I Got My Recommendations:
My visit to Tulum wasn't a last-minute whim — two of my friends from college were getting married. Their wedding website listed hotels that were close to the venue as well as a bunch of potential activities.
After booking the hotel, we were emailed several more times about different activities and excursions. I also did some independent research of several forums as well as TripAdvisor.
Exchange Rate At Time Of Travel: $1 USD = $18.56 MXN
What That Looks Like IRL: $50 USD = $928 MXN
Preferred Payment Method: Ca$$$h, and a lot of the time, it was actually easier to pay in American dollars. Most places do not accept cards, and ATMs are hard to come by (and have fees); so if you want to take pesos out, do so at the airport. Pesos go quickly because of the exchange rate, so keep extra dollars on you.
I ended up paying for one of my taxis in a mixture of pesos, dollars, and euros. So a lot is possible in Tulum.
Phone Bill: $45 (normal) + $6 (international)
Mode of Transport: Airplane
Price: $826
Extra Costs: $198, round-trip for a private shuttle from Cancun Airport to our Tulum hotel.
Transport Total: $1,024
Accommodation: Coco Tulum
Location: Tulum, beachside
Price: $275/night
Extra Costs: $150, for extra water and different knick-knacks
Would I Recommend It To Someone Else:
The hotel itself was gorgeous; I stayed in a bungalow along the beach in what's known as the "hotel zone" (a long stretch of beachside restaurants, villas, and, you guessed it, hotels).
Because I went with so many people, I heard a lot from other wedding guests about other hotels as well. Most people who were next to the beach enjoyed where they stayed, while many of the people who opted for Airbnbs that were located in the less tourist-y Tulum city seemed to regret not being closer to the beach (but did say the prices were much, much cheaper for accommodation, drinks, and food).
Accommodation Total: $1,350
Breakfast-Lunch Cost: $40-$50/day
Dinner Cost: $40-$50/day
Average Total Cost: $90/day
Tip Situation: Tipping is definitely a thing in Mexico, and would work pretty similarly to our tipping structure in the U.S. The better the service, the better the tip, but 15-20 percent is customary.
Food Situation:
Tulum isn't a place you're generally going to be cooking your own food (unless you intentionally rented an Airbnb with a kitchen for this purpose), so I ate all of my meals out. The hotel zone where I was staying wasn't cheap, at all. Don't let the exchange rate fool you into thinking the dollar goes far — dinner in Tulum will set you back $900 MXN, which nets out to almost $50 USD.
Note: You cannot use a card in most places, so bring cash. And the water isn't potable, so only drink from sealed bottles, or else you will spend some portion of your trip next to the toilet. Not necessarily speaking from personal experience, but also definitely speaking from personal experience.
Favorite Restaurant: Casa Jaguar
Location: Carretera Boca Paila Km 7.5 Tulum, Quintana Roo. Mexico
Price: $150, but it was my birthday dinner... OK?!
Honorable Mentions: Gitano, Safari, MurMur, Antojitos la Chiapaneca, and Mezzanine.
Food Total: $400
Nightlife Situation:
Like most tourist-filled tropical beach locations, Tulum includes a lot of day drinking. People chill out in cabanas, stretched out in the sun, sipping Coronas and piña coladas. So when it comes to going out... a lot of people are already well on their way by the middle of the afternoon (which explains the moderately early closing times).
There are a lot of restaurants (even ones I've listed above) that convert into bars with dancing along the sandy street that delineates the hotel zone. So much of your movements day to day (when not traveling to historic ruins or hidden cenotes) happen within a small stretch of road. It makes it easy to go out... and to get home.
What People Wear Out:
What people wear seems to vary from place to place and person to person. I saw girls in flip flops and girls in floor-length dresses. The boho chic vibe, no matter the level of glam, seems to reign supreme. It's primarily a beach town, and no restaurants or clubs seem to turn anyone away, so be as comfortable as you'd like!
Average Cost Of A Pint: $25 MXN (or about $1.34 USD)
Extra Cost To Know About: Even if you're staying within the hotel district, taking a taxi home may be the way to go. The main street is pitch black at night, which can turn a 10-minute walk into a 20-minute one — and doesn't always feel like the safest route if you're by yourself.
Last Call: ~11:30 p.m. (most bars), ~2 a.m. (clubs)
Average Total Cost Of A Night Out: $50 (I like tequila shots.)
Cheapest Bar I'd Actually Go Back To: Cantina Tropical inside Frida's, a popular hostel.
Going Out Total: $200
What I Spent A Lot On That Was Totally Worth It:
I took a day tour to Chichen Itza for around $65. I happen to be a sucker for ruins, and Mayan culture is fascinating. If you don't have the time to do it, there are plenty of smaller tours of different ruins all throughout Tulum.
What I Spent A Lot On That Was Totally Not Worth It:
A private shuttle from Cancun airport to Tulum. The trip was already very expensive, and I didn't factor in the transport cost. A bus is certainly less convenient, but spending $26 vs. $200 round-trip sounds worth it to me.
What I Spent Little Or No Money On That Was Awesome:
Some of the most beautiful places in Tulum are the cenotes. They're a lot more glamorous than their "sinkholes" translation in English would imply. Admission to these gorgeous underwater caves will vary according to price, but even the most tourist-trap ones (generally those closest to the tourist-y areas) only set you back $10 or so.
Favorite Thing I Did, Regardless Of Cost:
Staying in a bungalow directly on the beach. I don't normally spring for hotels (because I rarely spend time in them), but this resort was an exception. Having immediate access to the beach was incredible — and charging things to my room obviously made me feel like a boss.
Hidden Gem I Found:
This is Gloria, a sandy beach dog whose whole purpose in life seems to be chilling on the oceanfront, no owner in site. She's a staple along the beach row, and petting her while sipping piña coladas beat nearly everything else I did this whole trip. I'm not even being facetious.
The Photo I Took That Got The Most Attention:
Going anywhere sunny in February when your friends are back home hunched over in their parkas automatically garners you a lot of likes (and a lot of hate). My most successful photo was taken at my cabana next to the beach, wearing pants (which I never do).
Excursions/Extras Total: $120
General Shopping: $0
I wouldn't say shopping was high up on my list when I was traveling to Tulum; I mostly wanted to lie on a beach, sipping some form of boozy fruit drink, working hard on my non-tan. There are several little boutique-type shops along the main street. They sell your typical fun, beach chic knits, and sundresses. If memory serves, however, they are not cheap.
Souvenirs: Just the memories in my heart and the photos on my phone.
Souvenirs/Shopping Total: $0
Best Tulum Hack:
If you're looking to save money, take the bus or stay in town. Airbnbs are reasonably priced, and the food/drink options are made for people who actually live in Tulum and don't just visit it with a whole load of money.
Advice For Anyone Traveling Alone:
People are friendly along the beaches as well as in the bars. Obviously, make sure you're safe, but the culture of beach partying makes meeting new people a hell of a lot easier. And so does day drinking.
Total Trip Cost: $3,134
Worth It? Yes and no. Tulum is breathtaking, but I'd prefer to visit parts of Mexico that have... more Mexican people. I'd also like to go to a city whose population isn't dwarfed by the number of tourists in town — and a place where people are speaking more Spanish than English.