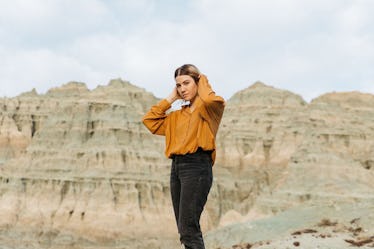 How To Pack For A Fall Weekender So You Have The Time Of Your Life
Let's be honest: Traveling is different every time you do it. Some trips require a passport and planning a detailed itinerary months in advance, while others are more spontaneous and can be done in few days. When you're studying abroad, for example, you have to pack the largest suitcase you can find. When you're taking a road trip through the East Coast in the middle of autumn, though, you don't need anything bigger than a carry-on. If that's your current situation, you may not know what to pack for a fall weekend getaway.
Don't worry, because I have all the answers. But first, I want to talk about where you're going, because that determines what your packing list is going to look like. For example, if you're escaping into the mountains to see the leaves change and make s'mores near a campfire, then you'll want to bring a lot of cozy items and outdoor essentials. You'll want to have fuzzy socks, a backpack, and extra clothes. However, if you're going to a major city to see the sights, you should prioritize a camera and an oversized hat.
Either way, you should do research on your destination and take into consideration the excursions you're going on. These seven items will be must-haves in your bag no matter where you go so you have the time of your life.