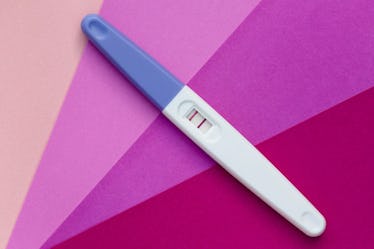 4 Steps To Take If You Think You Might Be Pregnant, According To OB/GYNs
Ask any young woman what it feels like to suspect you may be unexpectedly pregnant, and she's bound to tell you that it can be a tad anxiety-inducing. Unless you've been actively trying to have a baby, the suspicion can trigger some serious questions about how you're going to deal with this news. But not so fast: After all, you don't know for sure yet that you're pregnant. Wondering what to do if you think you're pregnant? According to three board-certified OBGYNs, there are a number of steps you should take (spoiler alert: none of them involve worrying).
As for what you shouldn't do if you think you're pregnant — don't panic. Remember: you might not be pregnant, and even if you are, you have many options for how to proceed. On the other hand, there are some important steps you should consider taking. Like maybe call your BFF — you know, so she can talk you down. Take a few deep breaths. Do some mental math on where you are in your cycle. And then, of course, there are other steps you can take to confirm the pregnancy.
So, whether you missed a period or you just have this inexplicable sneaking feeling that you're pregnant, here are some key steps to take for the sake of your health — and your sanity.