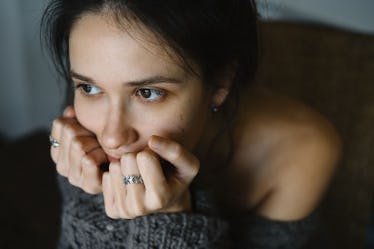 4 Times You Should Take A Pregnancy Test, Because Knowledge Is Power
For sexually active hetero couples who don't want to conceive, avoiding pregnancy is a task that requires constant diligence. No matter which type of birth control you're using, nothing is going to be 100 percent foolproof, so both partners should communicate clearly at all times to make sure you're taking the proper precautions. No matter how careful you are, things happen, and sex doesn't always go as planned. What should you do in these situations? Suddenly, you find yourself wondering when you should take a pregnancy test and whether this means you should low-key start to panic.
Taking a pregnancy test might not sound fun, but sometimes it's a necessary step to protect your health. After all, knowledge is power, and if you do happen to be in the early stages of pregnancy, you'll want to know sooner rather than later so you can start researching your options. There are several surprising scenarios that could result in a pregnancy, and when they happen to you, it can be scary sometimes. But we've all been there! You're definitely not the only one who has had these worries, no matter how alone you might feel. We're all in this together. As surprising as it sounds, almost half of pregnancies in the United States are unintended, according to the Guttmacher Institute — what? So, taking control of your health and your body, and taking the time to check in with yourself, is super empowering. Here are some scenarios when you should probably take a pregnancy test, according to experts.