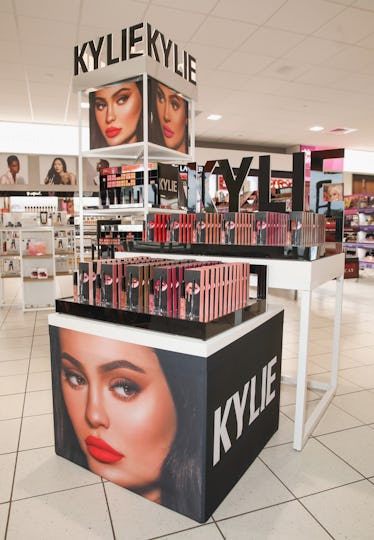 Here's What Kylie Cosmetics Products Are Available At Ulta, Because Not Everything Is Hitting The Shelves
Rick Kern/Getty Images Entertainment/Getty Images
Ever since it was announced that Kylie Jenner's beauty brand was coming to Ulta, I've been daydreaming about all the IRL swatching I'd finally be able to do. What can I say, online shopping makes it hard to know which shades will suit me best, so now that the line is officially in Ulta, I can test things out to my heart's content. However, the brand's full lineup hasn't hit shelves yet, so if you're wondering exactly what Kylie Cosmetics products you can get at Ulta, I'm here to shed some light.
If you remember the brand's launch way back in 2016, Kylie Lip Kits featuring liquid lipsticks accompanied by matching lip liners were the brand's sole goods. Since then, they've branched out and launched a wide array of beauty products, from palettes and cream shadows to highlighters and concealers. Still, though, the lip kits are undoubtedly the most iconic products in their lineup, and as the brand eases its way into mass retailer Ulta, it's starting with what it knows best: liquid lipsticks.
Sorry to anyone who was hoping to swatch the palettes or highlighters, but for the time being, the Kylie Cosmetics display at Ulta stores will be stocked with only lip products:
Kylie Cosmetics would need an entire store of its own to house every single shade of their lippies, so for their Ulta debut, the brand has curated a variety of their most popular colors. There will be 11 Matte Lip Kit ($29 each, ulta.com) options, as well as 11 Velvet Liquid Lipsticks ($16 each, ulta.com) and six Lip Glosses ($15 each, ulta.com).
The Lip Kit lineup includes nudes like "Exposed," "Candy K," "Koko K," "Dolce K," and "Dirty Peach," browns like "Clove" and "True Brown K," and statement shades like "Kristin," "Posie K," "Head Over Heels," and "Mary Jo K." The Velvet Liquid Lipsticks include nudes like "Commando," "Savage," "Low Key," "Basic," and "Charm," as well as deeper shades like "Punk," "Boy Bye," "Heat," "Surprise Me," "Goals," and "Shook." Last but not least, the Glosses range from pigmented colors like "Koko K" and "Literally" to more shimmer-based shades including "Cupid" and "Poppin'." There are also two Super Glitter Glosses, "Glitz" and "Glamour."
While all the aforementioned shades are available in Ulta stores store, you can't as easily snag them online. 20 products including "Glitz," "Cupid," "Koko K," "Literally," "Glamour," "Candy K," "True Brown," "Mary Jo K," "Posie K," "Kristen," "Dolce K," "Exposed," "Commando," "Charm," "Goals," "Savage," "Surprise Me," "Boy Bye," "Shook," and "Low Key" are in store exclusives, so while you can preview them on Ulta's website, you can't actually add them to your cart.
A bummer, I know, but the best part about Kylie Cosmetics coming to Ulta is the ability to swatch in stores, so I'm okay with the fact that the products aren't all available online. If you are hoping to get in on the in-store action, I highly suggest you head to your nearest Ulta soon, as my local store's display is already half empty — the people have waited a long time for Kylie Cosmetics to hit the shelves, so can you really blame them?