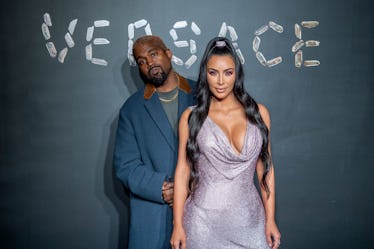 This Is What Kim Kardashian Is Like As A Partner, Based On Her Zodiac Sign
Roy Rochlin/Getty Images Entertainment/Getty Images
In a Venn Diagram titled, "Things People Like To Talk About On The Internet," the Kardashians and astrology may perhaps make up two of the biggest circles. While haters (@ my dad) may say Kris Jenner's offspring get enough attention as it is, my lifeblood quite possibly is diving into the middle — unpacking the astrologic charts of the Kardashian family. I want to "keep up" with how the stars aligned to make Kendall and Kylie Jenner. I want to know Rob Kardashian's moon. And I really want to now what Kim Kardashian is like as a partner, based on her sign.
In my hunt for all the answers (actually, just the Kim K answers) I reached out to Linda Furiate, consulting astrologer specializing in addictive behavior and relationships. Furiate had a lot to say about Kim's love languages, conflict styles, and flirting skills. She unpacks Kim's Libra sun, then dives into how Kim's Venus (the planet of love and attraction), then moves into Virgo and why the Pisces moon might impact how Kim navigates romantic relationships.
Kim K is a business woman, a model, a makeup mogul, a mom, a wife, and more — and she does it all with a banging contour job and a pretty widespread star chart.