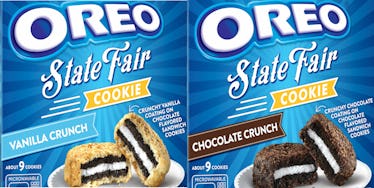 The Oreo State Fair Cookie Exists & It'll Make You Feel Like You're At A Carnival
When summer vacation time rolls around, it's all about relaxing and eating delicious food. Nothing screams summer like going to a state fair and indulging in all the classic fair treats. One of the state-fair food staples is the iconic deep-fried Oreo. It's difficult to duplicate this warm-weather delicacy at home, but that doesn't mean you'll have to deprive yourself of deep-fried Oreo goodness all season long. Thanks to a new product from "Milk's Favorite Cookie," you can get a similar taste right from the freezer section. So, what is the Oreo State Fair Cookie?
Before you get too excited about this new summertime sweet, I have to break the news that these new cookies are not actually deep fried. Per Delish, the Oreo State Fair Cookie is aesthetically similar to its deep-fried counterpart, but it gets the "fried" look thanks to a crunchy coating. The Oreo State Fair Cookie comes in two flavors, but both of them start with an OG Oreo in the center. Then, you can choose from Vanilla Crunch or Chocolate Crunch (or both!), which have a crunchy vanilla coating and a crunchy chocolate coating, respectively.
It seriously sounds like a delicious dupe of the deep-fried version, and you can find it in the Walmart freezer aisle, according to JunkFoodMom (@junkfoodmom) on Instagram. Although, it was reported that while they're visible on the Walmart website, the Oreo State Fair Cookie might not yet be available in Walmart stores.
So, how can the Oreo State Fair Cookie stack up to a piping hot deep-fried Oreo if it comes from the freezer aisle? Well, according to an image of the box on the Walmart website, it says that the cookies are "microwavable." So, you must have to heat up the Oreo State Fair Cookie in your microwave in order it make it toasty (and to transport you right to the state fair). That sounds good enough for me.
Honestly, I'm not sure how much the Oreo Sate Fair Cookie will taste like an actual deep-fried Oreo, but it sounds like a great alternative if you can't make it to your state fair — or if you like to avoid large crowds on sweltering summer days. Plus, the Oreo State Fair Cookie is made with the original Oreo cookie that you already crave along with vanilla and chocolate flavored coatings, so I can't imagine not liking it.
Now, you might need something to wash down your Oreo State Fair Cookie, and there is a perfectly fitting sip for that. To keep it all in the Oreo family, you can enjoy and ice-cold glass of Oreo iced coffee. Yes, the cookie-flavored coffee really exists, and you can feel like you're living inside an Oreo summer dream when you enjoy it with your fair-inspired treat.
If you're strictly into dunking your Oreos into a glass of milk, then you can also add some other new Oreo flavors to your summer dunking party. Oreo recently released three new flavors that are perfect for summer: Cherry Cola Oreos, Kettle Corn Oreos, and Piña Colada Oreo Thins. OK, I think Oreo has seriously perfected the flavors of summer, and you'll be set in the dessert department with these cookies all season long.
If you want even more summer flavor from Oreo, you can also look out for the newest Oreo flavors that are set to be released later this summer. Seemingly inspired by more summertime sweets, some of the new flavors include: Strawberry Shortcake Oreos and Rocky Road Trip Oreos. If you always scream for ice scream, then these soon-to-be-released flavors will perfectly round out your Oreo round-up this summer.
But first, keep your eye out for the Oreo State Fair Cookie, because it sounds like it's one summertime treat that you do not want to miss.