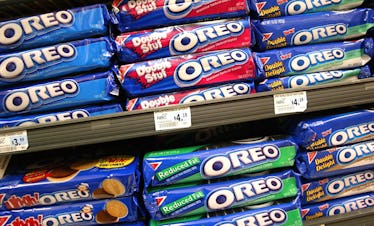 Oreo Is Dropping 5 New Flavors & I Don't Know How I Lived Without Them
Justin Sullivan/Getty Images News/Getty Images
When it comes to cookies, there are few that can beat the Oreo. I must admit that usually I'm an Oreo purist, classic favor only. But Oreo's five new flavors have me wondering how I ever lived without them. I think they might be on the road to converting me.
Nabisco announced at the Sweets and Snacks Expo in Chicago on May 24 (can you believe there's an expo for that? And doesn't it sound like dream? How do I get an invite?), that there will be five new Oreo flavors in 2018. Each flavor will be a take on a favorite dessert, according to Delish. Chocolate Peanut Butter Pie and Pistachio Thins dropped on June 4 and will become permanent members of the Oreo family. Good Humor Strawberry Shortcake, Rocky Road Trip and Peppermint Bark, though, are limited edition and are set to drop later this year, according to People. The wait will be hard, I know, but at least you have Chocolate Peanut Butter and Pistachio Thins to tide you over. Personally, I'll eat just about anything you make peanut butter flavored.
Probably the most anticipated out of the bunch, however, are the two ice cream flavored Oreos that are slated to hit the shelves. Junkbanter, the Instagram junk food aficionado, gave us a little sneak peak of the new flavors and thinks they're worth the wait.
The account posted on Instagram from the expo saying that they didn't have any samples of Strawberry Shortcake Oreos, but that they'll be arriving later this summer. So that's great news. Judging by the package, it looks like the "cookie with [the] strawberry flavored bits" is going to be a strawberry version of the classic Golden Oreo.
The other ice cream flavored Oreo is the Rocky Road Trip and, honestly, I'm pretty excited about it. Rocky Road is one of my favorite ice cream flavors and I can't imagine how tasty it'll be in an Oreo. JunkBanter posted on Instagram that Rocky Road Trip will also be available later this summer, so you won't have to wait too long for those either. They also gave us a look at the packaging, which says that these Oreos will contain "marshmallow bits and Rocky Road flavored cream with soy nut inclusions."
OK, "soy nut inclusions" doesn't sound like the most appetizing thing ever, but I still have high hopes for it. The "marshmallow bits and Rocky Road flavored cream" definitely has me sold.
It's not surprising that Oreo is giving us another lineup of outrageous flavors. In 2017, they "blessed" us with Peeps Oreos, Dunkin' Donuts Mocha Oreos, Waffle & Syrup Oreos, and Firework Oreos that were filled with Pop Rocks (that was an experience, to say the least). The beginning of 2018 also saw some of the most unusual Oreo flavors inspired by some classic drinks. The Piña Colada and Cherry Cola flavors were submitted by superfans as part of the #MyOreoCreation contest and then released by the Oreo Wonder Vault. (I could have done without them, though — like I said, I stick with the classics.)
Whether you are a junk food connoisseur or just an Oreo connoisseur, you'll definitely be kept very busy staying on top of Oreos wacky flavor creations that keep coming out on the 'reg. Make sure you pick up some Chocolate Peanut Butter Pie and Pistachio Thins next time you're at the store, and keep an eye out for new flavors that will pop up this summer. Also, if anyone wants to sign a petition for cocktail-themed Oreos, LMK. I'm so ready for new flavors to come.