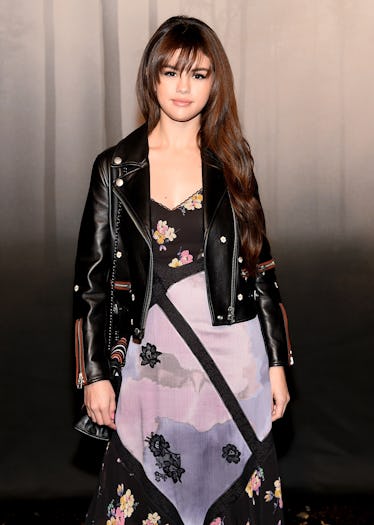 Selena Gomez Instagrammed About "The Beauty Myth" & Here's What That Actually Is
Jamie McCarthy/Getty Images Entertainment/Getty Images
Who says you're not beautiful? Not Selena Gomez, that's for sure. In the midst of the news that Gomez is taking a "break from fame" to focus on her mental health, the singer-songwriter is clearly still active on social media, as she shared an Instagram video on Mar. 20 to talk about how we, as a society, define the word "beauty." Selena Gomez talked about "the beauty myth" in an Instagram caption of a short, vintage-looking video post, which showed her living it up on a boat trip with friends. What appears to be a behind-the-scenes look at how she's enjoying her time off, is really just classic Sel using her platform to encourage young girls and women to defy societal expectations and focus on self-love.
From the moment Gomez was christened with Hollywood stardom, she's used her platform to encourage body positivity and self-love. Her 2011 hit "Who Says" was only a taste of what was to come for Gomez in her own journey toward self-love, and it's only fitting that now, during such an explorative time in her life, she would upload this video and offer her millions of followers her two cents on the topic of the ever-destructive beauty myth.
You may not know what the beauty myth is by name, but I can almost guarantee you're familiar with it, whether you consciously realize it or not.
If you do a quick internet search of what "the beauty myth" actually is, one of the first things you'll see is a book called The Beauty Myth: How Images of Beauty Are Used Against Women by writer and journalist Naomi Wolf. Even though the book was first published in 1990, it's still extremely relevant today.
Wolf's novel is a work of nonfiction, exploring what it means to be a woman in a world where rigid beauty standards are laid out for you almost everywhere you look. The Guardian reports that, as far as Wolf is concerned, the beauty myth is a "cultural conspiracy" against women, categorizing them based on these rigid aesthetic guidelines.
Gomez's Instagram caption appears to be quoting Wolf's book directly, shedding light on the beauty myth right after a weekend of constant press coverage of the pop star's time off in Sydney, Australia. Photos surfaced of the "Bad Liar" singer looking absolutely fabulous in a bright orange bikini, but rather than taking note of her carefree smile or her healthy glow, Teen Vogue reports there was an "intense focus on her decision to uncover her scars" from the kidney transplant she endured over the summer.
In true Gomez fashion, she appeared to respond to all the press coverage with nothing but grace, using an excerpt from a description of The Beauty Myth book in her Instagram caption to start a conversation about what this myth actually is:
An obsession with physical perfection that traps modern woman in an endless cycle of hopelessness, self consciousness, and self-hatred as she tries to fulfill society's impossible definition of flawless beauty. I chose to take care of myself because I want to, not to prove anything to anyone. Wind in her sails.
They say that beauty is in the eyes of the beholder, but society often has its own warped idea of what it means to be beautiful.
You've likely seen these unrealistic beauty standards in the fashion industry, among other places, but according to Madeline Familia, CEO and founder of New York City-based marketing and public relations consulting firm Creative Voices PR, social media plays an especially big role in all of this.
"There are filters, photo-editing apps on [your] phone that can easily enhance an image by airbrushing and even modifying one's physical appearances," Familia tells Elite Daily. "This pressure can lead to unhealthy behaviors, and as a result, compromises [your] ability to feel like [your] 'true beauty' will not be...accepted by society."
Let's face it: Humans, but especially the millennial generation, are visual beings. You're programmed to be more visual than not, which is how the magazine covers and ad campaigns reel you in. But thanks to the rise of social media apps, these unrealistic standards have leaked off the magazine pages, and into the feeds you scroll through all day, every day.
In 2015, Allure issued a national survey to find out how much society values physical appearance in the context of self-worth, and the results were honestly heartbreaking.
For the record, there's no shame at all in taking pride in your appearance. There's nothing wrong with applying the right shade of eyeshadow to make your irises pop, or lining your lips for the illusion of plump if that's the look you genuinely love. It's when the want turns into a need that focusing on your appearance and little else can become problematic.
For the magazine's assessment, Allure surveyed 2,500 people nationwide, asking questions that explored just how important physical appearance really is to people. It shouldn't come as much of a surprise that 64 percent of those surveyed said they notice another person's looks right off the bat (again, we're visual beings). What's disturbing, though, is that 50 percent of those surveyed agreed "appearance defines us significantly or completely." Yikes.
What's more, Allure conducted a similar survey in 2010, in which 35 percent of people who responded admitted to feeling like their appearance "defined their identity." Fast-forward to 2015, a mere five years later, and that number had skyrocketed to 50 percent, while a whopping 61 percent of both women and men think "their lives would be better if they were more attractive." I'm shook, friends.
As important as society makes physical appearances seem, it's even more important to realize beauty is not solely defined by your outer shell.
As someone who's struggled with body image dysmorphia from a young age, I genuinely fear for the effects the beauty myth may have on younger generations, should it continue to masquerade as a fact.
And my fears aren't totally unfounded, guys. In an exclusive interview with Elite Daily, Robyn Cruze, a national recovery advocate with Eating Recovery Center, notes some key findings from research conducted by the organization, which found that 51 percent of girls between the ages of 9 and 11 "feel better when dieting," while 42 percent of girls in the first and third grade "want to be thinner." Wanting to look and feel good, Cruze tells Elite Daily, is our right, but "it's not who we are."
Beauty does not begin and end with how you or anyone else looks. As Robert Glatter, M.D., a New York-based emergency physician, tells Elite Daily, it's "your soul that ultimately shapes and defines who you are, and what you stand for." Things like how you interact with others, your disposition, and your character will shine through your exterior, and show your true beauty, says Glatter.
Because beauty isn't just defined by external features, it's important to value your internal self, as well. According to founder of The EveryMAN Project, Tarik Carroll, "planting small seeds of self-love and self-worth" by speaking and writing positive affirmations is a great way to build confidence. Carroll tells Elite Daily that making this a daily practice can change the way you think and, in turn, actually transform the way you feel about yourself.
The truth is, you are your own worst critic, and what Gomez is trying to get across by debunking the beauty myth, is that no one needs anyone else's opinion to define what it means to be beautiful. The next time you're feeling down about your appearance, gently remind yourself that looks aren't everything, and they do not define who you are as a person. Practice self-love from the inside, and you'll always feel gorgeous on the outside.