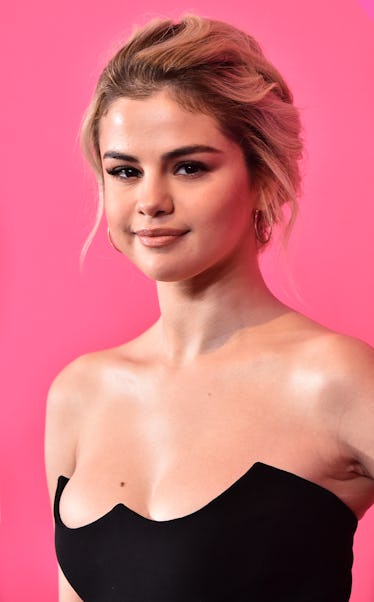 Selena Gomez's Quotes About Loving Yourself Will Make You Feel Incredible
Frazer Harrison/Getty Images Entertainment/Getty Images
Selena Gomez is one incredible woman. After skyrocketing to fame at such a young age, surviving super public and polarizing relationships and breakups, checking herself into rehab for mental health, undergoing a kidney transplant surgery, becoming the number one most followed person on Instagram, and winning multiple music awards including 2017's Billboard Music Award for Woman of the Year, this girl has almost seen it all. This ain't her first rodeo, honey. Because of the sheer breadth of her life experiences, Selena Gomez's quotes about loving yourself are so, so powerful.
When Gomez talks, I listen. That's because I trust she's seen and experienced things most of us will never come across in our lifetime. Despite the endless prying eyes of the public and media, Gomez has always been on an eternal quest to self-acceptance and discovery. She's let fans in on her personal journey with mental health and depression and has always been a champion of following your heart.
Here are a few of my favorite Gomez quotes to remind us all that we seriously rock.
Seriously. I mean it.
On Confidence:
To me, beauty is confidence. I think I'm pretty confident in the decisions and the choices I make in my personal life and career, but the same time I also let my fans know that, just like them, I have insecurities. I have moments when I don't feel good about myself. I think people can forget that, at the end of the day, I'm just a normal girl dealing with lots of the same issues as them.
— Bliss magazine, 2010
On Doing Your Best:
I feel like I have been doing this for so long that people are like, 'Be yourself, be yourself,' and I'm still trying to figure out who that is. I know I'm not perfect, but I know that I have a lot of people that support me and love me. I don't want to let anyone down so I just try to be the best I can be.
- ELLEN, 2014
On Taking Chances:
The older I've gotten, the more I've learned that I have to open myself up to all opportunities. Maybe I'll get burned and not meet the right people, but I won't know until I do it.
- Teen Vogue, 2014
On Feeling Sexy:
I have my own definition of what I think is beautiful and sexy. That's why, in the video [for "Good For You"], I didn't wear lingerie and I didn't have a guy in it. It's a woman in one of those raw, bare moments; she's vulnerable, and that's sexy.
- Flare, 2015
On The Idea Of "Perfection":
I didn't think I was doing anything bad by falling in love. There's such an emphasis on people being the perfect thing and then destroying them because it's good press.
- Teen Vogue, 2015
On Trusting Yourself:
I definitely remind myself that I'm in control. I feel like ultimately if I sit down and I think about a decision I need to make, it's really within myself. I make the decision. Everything goes through me.
- The New York Times, 2015
On Taking Care Of Mental Health:
I want to be proactive and focus on maintaining my health and happiness and have decided that the best way forward is to take some time off. ... I need to face this head on to ensure I am doing everything possible to be my best. I know I am not alone, by sharing this I hope others will be encouraged to address their own issues.
- People, 2016
On Body Positivity:
The beauty myth- an obsession with physical perfection that traps modern women in an endless cycle of hopelessness, self consciousness, and self-hatred as she tries to fulfill society's impossible definition of flawless beauty. I chose to take care of myself because I want to, not to prove anything to anyone. Wind in her sails.
- Instagram, 2018
Selena, honestly? THANK YOU, QUEEN.
Everyone else, I recommend you bookmark this tab so you can revisit it when you're feeling like, "Wait a second, life is hard." Selena and I have got your back.
I mean, maybe listen to her over me. I'm just saying, I support you, too. BYE!