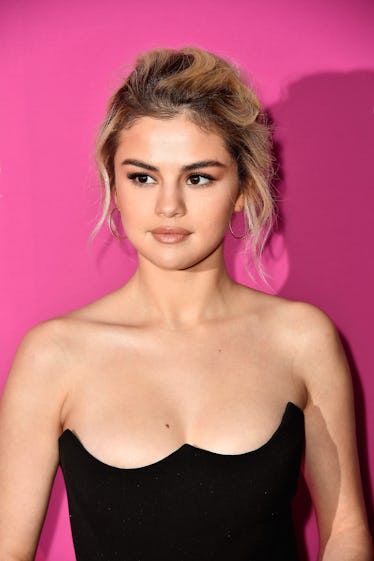 Selena Gomez Gets Real About Her New Album & It Will Break Your Heart
Frazer Harrison/Getty Images Entertainment/Getty Images
You should never judge a book by its cover — or a celebrity, for that matter. Because while Selena Gomez may look stunning on the March 2018 issue of Harper's Bazaar — which will hit newsstands on Feb. 20 — the former Wizards of Waverly Place star revealed some pretty hard truths inside the publication about the dark battle she faces every single day, and how she has finally managed to come to terms with it. Selena Gomez's quotes about depression and anxiety are truly heartbreaking, but I am amazed by the actress' resilience and strength.
Earlier this month, E! News revealed that Gomez had "recently completed a two-week treatment program for depression and anxiety." Now, in a new interview conducted for Harper's Bazaar by 13 Reasons Why star Katherine Langford — Hannah Baker, ladies and gentleman! — the pop star opened up in a very real way about her demons, and about the way she is finally making peace with the fact that she will probably have to fight them off them forever.
"I've had a lot of issues with depression and anxiety, and I've been very vocal about it, but it's not something I feel I'll ever overcome," she explained. "There won't be a day when I'm like, 'Here I am in a pretty dress — I won!' I think it's a battle I'm gonna have to face for the rest of my life, and I'm OK with that because I know that I'm choosing myself over anything else."
Yesssss, girl! This is one seriously strong and brave woman right here, and I am so happy she is taking the time she needs to focus on herself — even if it means we all might have to wait a little while for the release of her next album.
"My next album has been forever in the making," Gomez admitted. "When people ask me why, I'm honest about it: It's because I haven't been ready. I mean, point-blank, I don't feel confident enough in where my music is yet. If that takes 10 years, then it takes 10 years. I don't care. Right now I just want to be super intentional with all of the things I'm doing."
Take as long as you want, girl — 10 years, 20 years... I will still be here waiting! I just admire Gomez so much for speaking out in such a real and raw way about her struggles. Not only is her courage inspiring, but she is doing so much to lift the stigma surrounding depression and anxiety, and around taking time out for yourself when you need it to stay mentally healthy — and her fans on social media are loving her for it.
Speaking of social media, Gomez told Langston that she has somewhat of a rollercoaster of a relationship with Insta, where she was the most-followed celebrity on the app for 2017.
"I have a complex relationship with Instagram, to say the least," she explained. "It has given me a voice amid all the noise of people trying to narrate my life for me and allows me to say, 'Hey, I'm gonna post this, and this is gonna take care of the 1,200 stories that people think are interesting but actually aren't, and aren't even true.' So it empowers me in that way because it's my words and my voice and my truth. It's an incredible platform, but in a lot of ways it's given young people, myself included, a false representation of what's important. So, yeah, it's a complex relationship. Probably one of my most difficult relationships."
Once again, she's just so real. And luckily, Gomez has lots of more beneficial relationships in her life, too — like the ones she shares with her friend squad. "If I want to hang out with my friends, I don't really go to a lot of trendy places," she said. "I love going to Chili's and having queso and chips. I also love dancing. I really do. I love looking like a fool with my friends."
Same, girl. So, um... can I be invited next time?