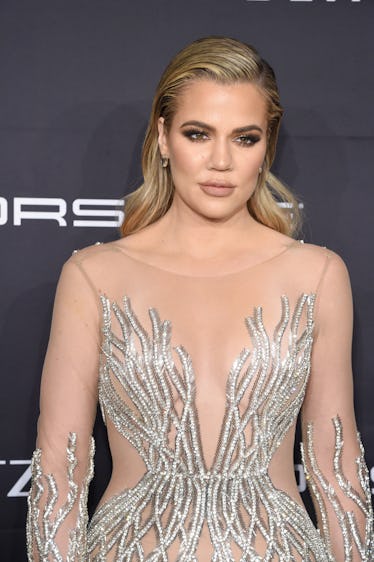 Khloé Kardashian's Baby's Net Worth Is Set To Be Absolutely Jaw-Dropping
Jamie McCarthy/Getty Images Entertainment/Getty Images
You KNOW you're doing something wrong in life when an infant is raking in tons of cash and you can barely afford to buy yourself a sandwich. But don't be too hard on yourself, because the baby in question is Khloé Kardashian and Tristan Thompson's little girl. If you're a Kardashian, you're basically a shoe-in to be worth millions, and many people are now wondering, what is Khloé Kardashian's baby's net worth?
Well, technically, the baby doesn't have a net worth just yet. But if you look at her parents and how much they're worth, she's definitely going to have no problem getting all the latest and greatest toys, clothes, and accessories.
According to Time, Khloé Kardashian has a net worth of around $40 million as of February 2018, and those numbers aren't expected to go down anytime soon. The article states that Kardashian's net worth that was earned "from the series as an executive producer and cast member, as well as her own spin-offs," adding, "Khloé briefly hosted Kocktails with Khloé on the FYI channel, and this year, her new show Revenge Body with Khloé Kardashian premiered on E!." So, yeah, your girl clearly knows what's she doing.
It's not all Khloé though. Boyfriend Tristan Thompson plays for the Cleveland Cavaliers, and, according to HoopsHype, is being paid $16.4 million for the 2017-2018 basketball season, with projections to earn even more throughout the next few years.
Damn. That's one lucky baby.
Khloé Kardashian gave birth around 4 a.m. ET on Thursday, April 12 at a hospital outside Cleveland, according to TMZ. The baby watch all started back in December of 2017, when Kardashian took to Instagram to confirm that she and Tristan Thomspon were expecting a child. Her post was beyond sweet, and she thanked Thompson for making her a mother:
My greatest dream realized! We are having a baby! I had been waiting and wondering but God had a plan all along. He knew what He was doing. I simply had to trust in Him and be patient. I still at times can't believe that our love created life! Tristan, thank you for loving me the way that you do! Thank you for treating me like a Queen! Thank you for making me feel beautiful at all stages! Tristan, most of all, Thank you for making me a MOMMY!!! You have made this experience even more magical than I could have envisioned! I will never forget how wonderful you've been to me during this time! Thank you for making me so happy my love!
The freaking cutest.
We already knew that Kardashian and Thompson would be stellar parents, but Khloé wrote about how she knew Thompson was "The One" on her website, and it proves that they're also just the perfect couple:
Tristan was so forthcoming with his life, as I was with mine. It was really reassuring to feel that someone had the same belief systems as I did. We spoke about religion, children and our families. I think all of those things are important to truly know the ins and outs of someone. It's really easy to fall in love with someone during a honeymoon phase when you haven't yet discussed the logistics of life. But you have to talk about the real things if you want a real/long-lasting relationship.
Of course, since news of Thompson's alleged cheating scandal broke earlier this week, it's likely that Kardashian feels differently now. E! News reports from a source that Kardashian is "distraught" over the reports. The source continued,
Her entire world has been turned upside down. She cried hysterically all night. She begged to come back to L.A. and tried to find any way to make it work but her doctor wouldn't let her. She just wants to be with her family and leave as soon as possible. Kris is there and completely supporting her.
Hopefully, Kardashian was able to give birth in peace, surrounded by her family, and is now enjoying time with her precious baby girl.