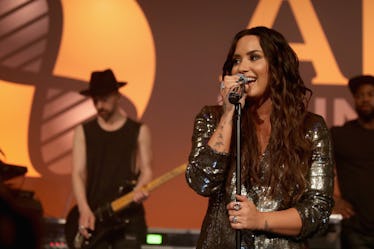 Demi Lovato's Friends Reveal What It's Like To Know Her IRL & It's Actually So Sweet
Antonio de Moraes Barros Filho/Getty Images Entertainment/Getty Images
If you haven't watched Demi Lovato's newest documentary, Demi Lovato: Simply Complicated, I highly recommend. It gives a fascinating insight into Lovato's past, present, and future. Close friends and family also give an interesting perspective on Lovato's life and career. As of recent, Lovato has stressed the importance of keeping herself totally transparent with fans. This documentary definitely answers the question, "What is Demi Lovato like in real life?" Not surprisingly, she's actually a lot like you probably think.
Lovato keeps it very real with fans (insert "100" emoji here). We know her struggles, but we also celebrate her victories. Her documentary released to the public on Tuesday, Oct. 17, via YouTube. Although Lovato has had her dark times, she's living a much happier and healthier life. She explained in the documentary that she's "on a journey to discover a life with no demons."
One aspect of herself that was fun to see was her sense of humor. What might not come across in an interview or on tour is Lovato's wit and general hilariousness. Her personal assistant, Kelsey Kershner, said,
She's very witty, which people might not notice because I feel like you can't fully show your personality when you have to do a press tour or something like that ... She's pretty hilarious and cracks hilarious jokes.
The documentary highlights a few of Lovato's jokes. For example, as they are driving past a dam (the water barrier), Lovato has a moment of inspiration and yells "DAMN, SON." Classic.
Kershner continued,
She has a very interesting sense of humor ... She's always been witty and funny.
I didn't really feel surprised by this, Lovato seems super lighthearted and funny in interviews I've seen. Her sense of humor mixed with her DGAF attitude, creates an interesting combination... In a not sure what she's going to say next kind of way. Kershner admitted,
Sometimes I'm like, 'What did you just say?' ... Just little moments like that she doesn't give a f*ck. She will say anything that's on her mind ... She definitely has a... [laughing] unique personality.
Everyone had to crack a smile when talking about Lovato's sense of humor. One of her Philymack family members assured the audience, "She's lovable." We didn't really have any doubts, but thanks.
An interesting perspective of Lovato's life came from her childhood friend, Marissa Callahan. Still friends today, she divulged, "We're super inappropriate."
So basically Lovato seems like the coolest, most fun friend anyone could have. However, it wasn't always easy for Lovato. During the documentary, she dove into her struggles with drug abuse and eating disorders. During this dark time in her life, Lovato spilled that she "was not easy to work with" because of her inability and unwillingness to get clean. She said,
I was not easy to work with ... I went on a bender like for two months where I was using daily.
While Lovato still works on her demons daily, she is working her *ss off to come out on the other side. Through advocating, exercise, and self-love, Lovato is living a happier, healthier life. She warned,
When I'm comfortable in my own skin, I feel confident. When I feel confident, I feel sexy. When I feel sexy... watch out.
It was amazing to see the transformation Lovato has gone through. My heart ached at the beginning. She was a child living through things that most people never have to deal with. However, she seems stronger than ever and is ready to take on life.
If you haven't caught Demi Lovato: Simply Complicated yet, you will love it. Besides a fascinating documentary about a talented singer, you will learn all about inner-power, self love, and conquering your demons. Love you, Demi!
Check out the entire Gen Why series and other videos on Facebook and the Bustle app across Apple TV, Roku, and Amazon Fire TV.