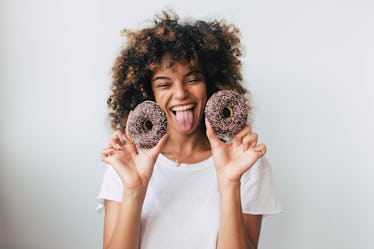 This Chocolate Yoga Class Combines Your 2 Favorite Things In The World & YAS
No matter how many things humanity disagrees on, I strongly believe that we will always be able to come to a consensus on how amazing dessert foods are. Chocolate, ice cream, Nutella pancakes — seriously, don't get me started (I could go for days). As a yoga teacher, I know I'm not the first one to say there have been plenty of times when I've caught myself daydreaming of a luscious bar of dark chocolate while lying in savasana. So you can only imagine the sheer joy that washed over me when I found out that chocolate yoga classes are now a thing. You guys, this truly sounds like the happy place that I didn't even know I needed.
Brit + Co reports that a London-based chocolate company called Love Cocoa has collaborated with British yoga instructor Guzel Mursalimova to bring chocolate yoga to the UK. And yes, it's pretty much exactly what it sounds like. A typical 90-minute chocolate yoga class, according to Brit + Co, pairs the drool-worthy taste of decadent vegan chocolate bars with soothing meditation sessions and restorative yoga poses.
TBH, this new take on the ancient practice of yoga kind of just seems like an intricately planned-out excuse to indulge in delicious sweets in between poses — but hey, I am not complaining.
At this point, I'm not even that surprised by the seemingly strange pairing of a calming yoga flow and some quality vegan chocolate. With drunk yoga, ganja yoga, horseback yoga, and a myriad of other bizarre takes on the ancient practice, nothing phases me anymore.
But if you're wondering how the heck your two favorite things got paired up, Mursalimova explained her motives behind the class in an interview with Brit + Co:
There are many parallels [between chocolate and yoga] — from experiencing a naturally elevated mood after indulging in a piece of delicious chocolate, to the feeling of lightness and radiance after a restorative yoga practice. For me, mindful movement, power of breath, and organic vegan chocolate are a perfect match.
While there's not really a legit, specific connection between chocolate and yoga, Mursalimova makes a good point about how both of these things have the power to make you feel good mentally, as well as physically.
According to research compiled by Bryn Mawr College, chocolate releases loads of feel-good chemicals and hormones in your body, which is similar to the effect that meditation and yoga can have on you. Basically, take Mursalimova's comparison with a bit of a grain of salt, and simply consider it a fun interpretation of the similarities shared by a delightful savasana and a blissful bite of your favorite chocolate bar.
The chocolate yoga class' event description explained that the first half of the session includes ancient mindfulness techniques used to elevate the already luxurious sensations associated with biting into a rich, delicious chocolate bar. After that, the rest of the class appears to include a variety of relaxing essential oils paired with a series of restorative yoga poses, to "soften and relax your muscles" and leave you "feeling a little lighter, more mobile and completely blissed out." Pretty awesome, right?
Unfortunately for all of us non-Brits, the first class (and all possible subsequent classes) are only available, for now at least, in the UK.
But hey, there's absolutely nothing stopping you from incorporating similar themes into your at-home yoga flows, or even suggesting to your favorite instructor at your local yoga studio to partner up with a nearby sweets shop to bring this delicious fantasy to the states!
For now, allow Mursalimova's genius idea to inspire you to grab a couple of your girlfriends, stock up on your favorite chocolate brands and a couple of soothing essential oils, and try indulging in a night of yoga and dessert-themed TLC at home — plane ticket to London not required.