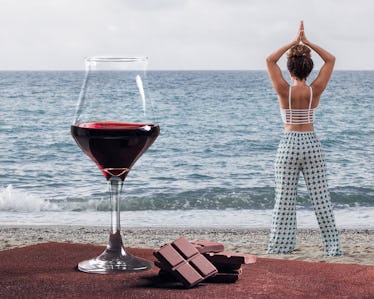 You're Not Living Your Best Life Until You've Tried "Drunk Yoga"
Finding your flow in a vinyasa class with wine seems like the perfect kind of paradise, am I right? Well, heaven on Earth truly does exist — and that, my friends, is called drunk yoga. Now that I have your undivided attention, I hate to break it to you, but you have not been living your best life until you've tried this boozy spin on your typical yoga class. I don't know about you, but the namast'ay sippin' rosé all day mentality speaks to my heart on a whole other level. If you want to channel your energy at a fun new hobby, signing up for drunk yoga classes in New York City with your gal pal is the way to go (if you're 21 and up, of course).
Focus the body and mind as you take a sip of merlot before perfecting your downward dog. Naturally, the two words "drunk yoga" are appealing AF to the senses, but don't sip on more than you can handle. Fully immerse yourself in the overall experience as you strip away stresses from the previous day or week. If you're located in or live close to New York City, wander down to the lower east side to yogi Eli Walker's Drunk Yoga class at The Grey Lady and Drexler's, and you won't be disappointed.
Elite Daily spoke with certified yoga instructor and founder of Divine Your Story Eli Walker about her trademarked Drunk Yoga class and the benefits it entails. She tells us,
By integrating yoga with wine, I'm highlighting the communal aspects of both through a soulful celebration of mindful movement for the purpose of cultivating happiness, and I believe that happiness is health.
It's the best kind of girls' outing after work, or the perfect transition into boozy brunch. You'll feel refreshed and in tuned as ever with your best girl pal trying to balance in tree pose right beside you.
If I haven't convinced you quite yet, here are four legitimate reasons why you should call up your BFF ASAP and get your sip on.